Change Log
Follow
Monday 29 May
AIM - Product Forecast Daily Chart
The AIM Stock on Hand chart is now drawn daily, instead of monthly, to help you visually forecast how your strategy will accommodate your forecast demand. Select a part of the chart to zoom into an area of interest and review the detail in a tooltip by hovering over the chart.
Quickbooks Online Average Landed Cost at time of Dispatch Update
Unleashed will now send the value of the average landed cost at the time of shipment dispatch for all Unleashed subscriptions from 29th May 2023.
Wednesday 24 May
eCommerce Hub - WooCommerce integration
Today we released the first iteration of our basic Unleashed & WooCommerce integration. You can find it under the eCommerce Hub menu item. To learn more click here.
Monday 15 May
AIM Product Forecast Charts
The Product Forecast page now features new charts in addition to the Product Lifecycle Chart. You can now review a products history in details to help you create a forecast and strategy:
Sales Qty vs SOH Qty vs Purchase Qty
Sales Per Month
The main Product Forecast Chart now features a carousel with a new chart:
Replenishment Orders Required for Max SOH
Monday 1 May
Email Verification
As an added security layer, we have implemented an email verification process to Unleashed. You will be sent an email when you next log on to Unleashed. Locate the email in your inbox and click on the "Verify Email" link. You only need to do this once. We will remind you every time you log in until you've verified your email address.
Example of email you will receive:
Wednesday 26 April
Production tab
Product Records now have a new Production Tab to provide easy access to the Bill of Material details for the selected Product.
Easily identify which Bill of Material is used to create this product, or which Bills of Materials this product is used in. For more information on the information provided in this tab please visit Create Products.
Thursday 20 April
AIM Product Forecast
Advanced Inventory Manager now features Product Forecast. When you are on the Modelling page and have a set of products selected you will be able to click on the AIM icon to open the Product Forecasting panel.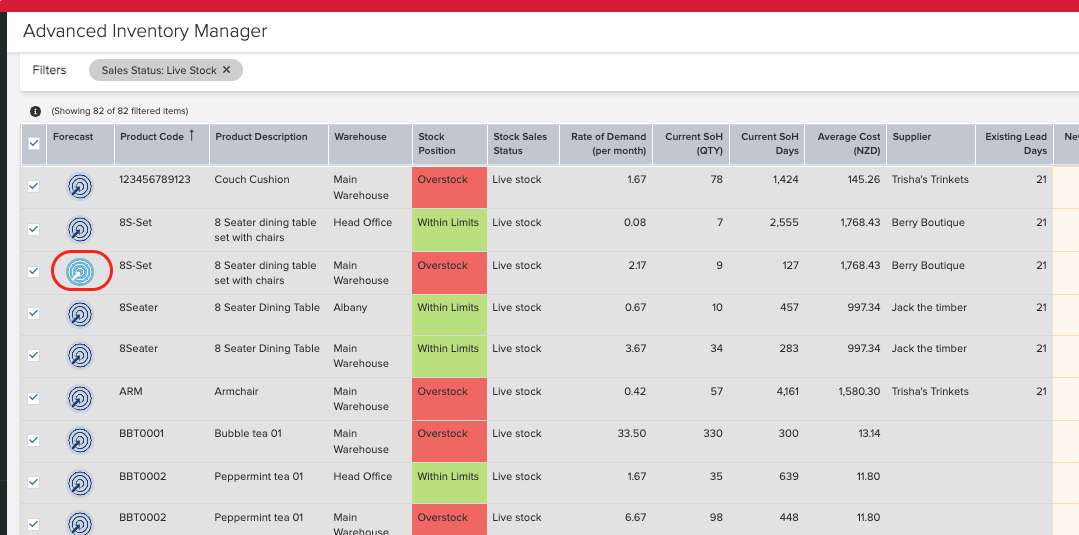 The Product Forecasting panel will slide out from the right to left and will allow business owners or purchase managers to add forecasted units sold or used in assemblies for the selected product. To support you with the process AIM will provide you with Actual demand (QTY) over the last 12 months (the default period) with projected Linear and Seasonal trends for the product for the future 12 months (the default future period) on the page.
Wednesday 29 March
Company Configuration: Per Warehouse Controls - change in behaviour when disabling
If you have set up per warehouse controls and added bin locations and min/max stock levels, then decide to toggle OFF per warehouse controls, all bin locations and min/max stock levels will be cleared. The individual warehouse stock levels will be summed up and used as your Global min and max stock levels.
It is advisable to export your Inventory Details as a backup. You will be prompted when toggling OFF with a link to the export inventory details tab.
For additional information please see Company help page.
Monday 27 March
Quickbooks Online Average Landed Cost at time of Dispatch Update
Unleashed will now send the value of the average landed cost at the time of shipment dispatch for new Unleashed subscriptions from 27th March 2023.


Most of the existing subscriptions with a QBO integration prior this date will be sending the current average landed cost at the time of the transaction (sales or credit) -> contact our support team should you wish to have this updated to the new behaviour.


On the 29th of May, all subscriptions will adapt the new behaviour automatically.
Wednesday 22 March
Credits tab in related invoices
Similar to the credits tab in Sales Orders, you now have a credits tab inside invoices.
The credit tab heading will indicate the number of credits raised that relate to the invoice you are viewing. The number will be colour coded to match the status of the invoices.
The stock return column will indicate whether stock is returned, not returned, or a dash if the credit is not yet completed.
Monday 20 March
Shopify Order Edits
You now have the option to unlock and edit open orders created in Unleashed from your Shopify eCommerce stores.
Navigate to the eCommerce hub > Shopify > click configure on your store card and toggle on 'Unleashed Manual Order Edits' under the configuration tab.
Learn more about this in the Shopify Integration Setup
Shopify Order Link

As a little bonus / complimentary enhancement to Shopify Order Edits, we have also added a Shopify link icon to all Shopify created orders on the top-right-hand-side of the sales order screen which takes you to your Shopify Order
New Currencies API Endpoint
See API Change Log for details
Wednesday 15 March
Advanced Inventory Manager (AIM)
The first version of AIM has been released.
AIM is a brand-new tool designed to solve the challenges of modern supply chain management.
With AIM you're able to quickly and easily improve cash flow by fine-tuning your reordering – forecast demand – and spot stock problems before they happen.
Click here for more information.
Monday 13 March
Purchase Order Lines Grid - new hidden column
The Supplier Product Description is now available under the hidden columns for use in the Purchase Order Lines grid and Purchase Order Template.
Monday 6 March
Bulk Update Purchase Order Statuses
You can now bulk update the statuses of your purchase orders that are un-receipted or un-completed. This includes Custom Purchase Order statuses that you have created.
Wednesday 1 March
Business Intelligence - View your data behind the Charts

.

BI Vision charts now give you the flexibility to view your data behind the chart without exporting the data to CSV. The grid/table icon next to the title of the chart now allows you to toggle and show the data behind the chart for easy reference or export and is also available on the timeline charts.
To Export the data just click on the 3 dots in the right-hand corner and select Export.
Monday 20 February
Create Purchase Order from within an Assembly
You can now create a purchase order from within an assembly. To create a purchase order related to your assembly, press Purchase in the top right of your assembly. A dialogue will appear to select the supplier and quantity for each component line. The preferred supplier will be pre-selected. It is assumed that the quantity will be for the required quantity for your assembly to support build-to-order jobs. A purchase order will be created for each supplier.
Once a purchase order is created, it will contain a link back to the assembly that created it, so you can easily reference back to the assembly that required the inventory.
Monday 13 February
Settings - Turn off Automatic PDF downloads per Transaction Type
You can now opt to turn off automatic generation and download of transaction documents via your Company Settings tab under Print Settings.
Note: Sales Orders and Sales Quotes are handled at the Customer level on the Customer details page.
Thursday 9 February
Business Intelligence - View your data with different chart types.
BI Vision charts now give you the flexibility to view your BI Vision data using different chart types. The chart icon next to the title of the chart shows you the next view. If you are a Vision subscriber and have permission to BI Vision then try it out now.
NOTE: This feature is now available on all BI Vision pages with charts and we will soon add an option to view your data in a grid without exporting it to CSV or excel.
Tuesday 7 February
Auto Assembly Product Allocation -
change to behaviour
(released 16 January 2023)
The behaviour of auto-assembled product allocations has changed to ensure that the component products are allocated appropriately.
Sales for auto-assembled products will no longer drive the "Available" quantity negative but instead place the components into an 'on-assembly' allocation.
Stock allocation for pre-assembled stock on hand of auto-assembled products will allocate normally.
Assembled products that are not auto-assembled will allocate normally.
Default Purchase Price - update from Purchase Order
As provided for Supplier Pricing changes, you can now also update the default purchase price for products from the Purchase Order itself:
Unleashed User Invitations and 2SA - change to expiry period
Both the Unleashed User Invitations as well as the 2SA expiry window have been reduced to 7 days.
Related Credits tab added to Sales Orders
Sales Orders now feature a new related Credits tab. Credits will automatically be linked into this tab if they relate to an invoice from the same sales order. The new credits tab displays the status, value, date, related invoice and whether stock has been returned, not returned, or pending (parked).
Custom sizing of Document Designer Templates
In addition to Product Labels, all other DocDesigner templates now support custom sizing.
Purchase Orders - new totals layout for Supplier's with foreign currency
Where your Supplier has a different currency to your own base currency, we have split the sub totals and totals into separate columns for easier visibility:
Tuesday 31 January
Customer name, Supplier name and Product description added to View pages
Customer example:
Additional product details added to Stock Count export
The Stock Count export now includes additional product details to assist with identifying products and location.
Link to Custom Statuses from the Bulk Change Status pop-up
If you need to add a new custom status during a bulk status change, click on "New Status" to take you to your custom statuses (currently available for Sales Order Statuses and Assembly Statuses - Purchase Orders coming soon)
Monday 23 January
View Purchase Orders - new bulk action "Complete Orders"
You can now bulk complete several RECEIPTED purchase orders from the View Purchase Orders screen:


Wednesday 18 January
New Settings Tab in Company page
We have moved several configuration options into a new Settings tab found inside the Company page. The configuration tab now holds options that control functionality within Unleashed, while the new Settings tab determines the behaviour of the system.
Monday 16 January
Bulk Update Assembly Status
We've added a new bulk action to the View Assemblies page. You can now adjust the status for multiple Assemblies in one quick & easy action. Simply select 'Change Status' from the action cog.
For more detailed instructions please visit Assembly Statuses
Add your own Purchase Order Statuses
You can now add additional Purchase Order Statuses to help you manage your purchasing workflow. For additional information see Purchase Order Statuses
Create Stock Counts with 0 SOH products
You can now create Stock Counts that include Products with zero stock on hand. Click on the option from the Stock Count page:
Thursday 12 January
Adding a Sales Quote - New lightbulb icon next to the Customer name.
Similar to the lightbulb on the Sales Order page this feature gives you access to rich insights into your customers' buying habits on the fly – so you can decide on what to up-sell and cross-sell straight from your Sales Quotes.
After you have added your customer to the Sales Quote you'll now see a lightbulb icon next to your customer's name. Hover over this icon and a floating box will appear with some contact information of that customer and their top 10 products purchased for the last 12 months.

For even deeper insights, click on the 'Explore more with Business Intelligence' hyperlink in the window to view your BI Vision Sales page in a new tab. (Your account needs to be subscribed to the BI Vision module and your user role needs permission to access this page.)
BI Vision improvement
We made it easier for BI Vision subscribers to navigate to BI Vision, from the main Dashboard using the button at the bottom of the KPI tiles (renamed to Explore BI Vision) will take BI Vision users directly to the BI Vision page instead of Foundation.
Create Assemblies via the Product Record
You can now create Assemblies directly from your product record, simply select the Product drop down option in the top right hand corner of the screen.
BOM Free Assemblies
Bills of Materials are no longer required to create an Assembly for an Assembled Product. Creating a BOM Free Assembly will result in a blank Assembly where Components can be added for production.
Perfect for any Bespoke Production workflows!
For more information feel free to check out How to build assemblies on the fly
Credit Notes Attachments tab
You can now add attachments to your Credit Notes via the Attachments tab.
"Can Assemble" quantity added to Product pop-up
The "Can Assemble" quantity has been added to the Product pop-up for assembled products: