Introduction to the eCommerce Hub
Follow
What is the eCommerce Hub?
The eCommerce Hub is a new module for Unleashed designed to provide a centralised location for all your eCommerce related integrations & functionalities. As the name implies, this module will be a hub of eCommerce activity, allowing you to easily & efficiently manage the eCommerce side of your business in a dedicated area of Unleashed.
This module will be dedicated to all things eCommerce, and as such, will be the home for the new & improved versions of our most popular eCommerce integrations. However, there is more to come! Watch this space as we aim to introduce further functionality to the eCommerce Hub, including new eCommerce integrations, Shipping Tools, Order Management Systems, & many more.
Will I have to pay to use the eCommerce Hub?
Yes, the eCommerce Hub Integrations will be optional add-ons which you can add to your subscription via the Billing details section of your Unleashed account. Simply select Settings > Billing on the left-hand menu & select "Upgrade". For more information on the pricing details, please visit - Unleashed Pricing.
What Integrations are available with the eCommerce Hub?
The following list of integrations are currently hosted within the eCommerce Hub:
How do I access the eCommerce Hub?
The eCommerce Hub module & the features hosted within it can be accessed by selecting the eCommerce option at the bottom of your left-hand menu in Unleashed. The resulting page will include all the current eCommerce integrations which can be accessed by selecting the appropriate tile.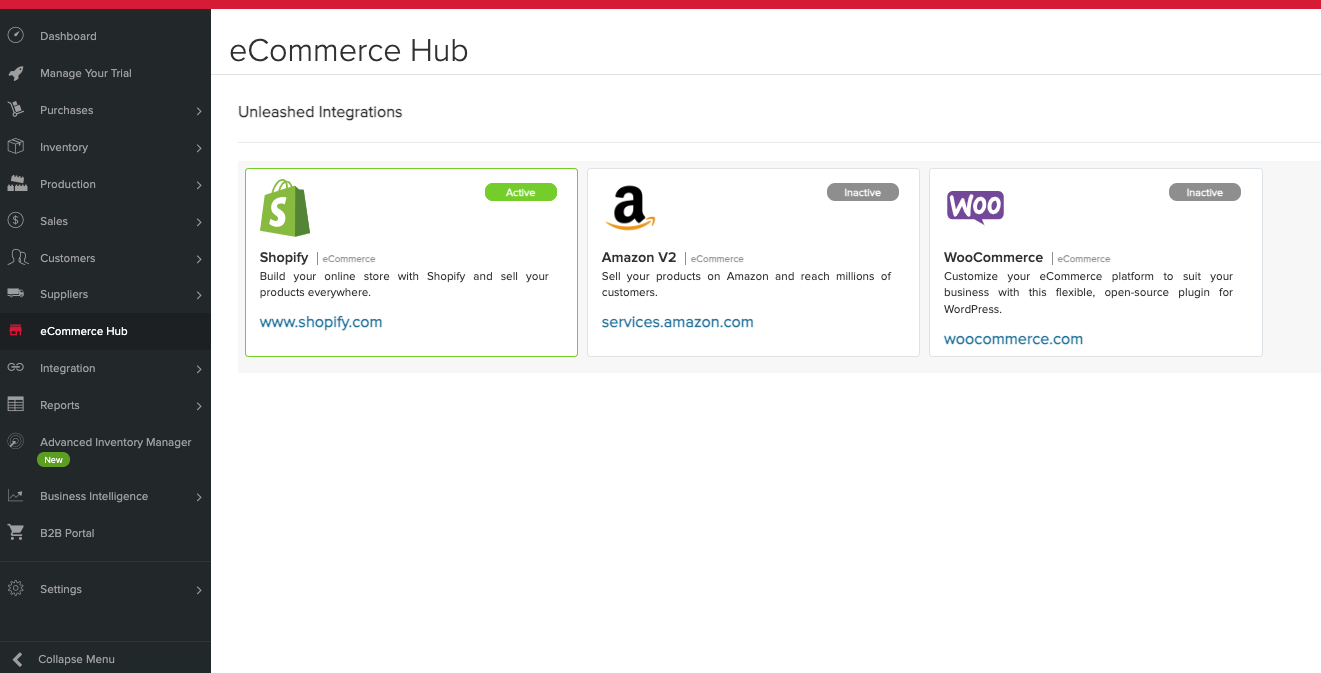 Questions?
If you have questions or are experiencing trouble with the eCommerce Hub please submit a case with us.