Business Intelligence (BI) Introduction
Follow
ON THIS PAGE
Introduction
Customize your page layout (BI Vision only)
Some basics to get you started with BI
Show the top 25 records (BI Vision only)
Search on dimensions and Multi-select / deselect (BI Vision only)
EXPORT CSV (BI Vision only)
BI Tutorial video
Zooming in on Graphs
Toggle chart legend on or off
Apply and save filters (BI Vision only)

Additional resources:
KPIs and calculations
FAQ
Introduction
What is Business Intelligence (BI) and what does Unleashed have to offer?
Business Intelligence or BI is a module in Unleashed that shows data on your business' performance. This data are based on your transaction records in Unleashed, namely, Purchases, Inventory, Production, Sales, and Customers. They are aggregated to form key performance indicators or KPIs to show how well the business is doing or areas to improve on.
Why did Unleashed build the BI Module and how can it assist in managing your business?
We listened to customer feedback from a wide variety of customers who were getting value from our reports and enquiries, but there was also a consistent theme where many of you wanted more sophisticated analysis, essentially a business intelligence feature, evolving Unleashed from a system of record to a system of results.
Our strategy is to provide you with a free version of BI called BI Foundation which will provide you with some key KPIs and measures for all 5 context areas, more date selections than the current dashboard, time series charts with period comparisons where applicable, and the ability to zoom in on graphs.
Together with our free BI offering, we also developed a pay-to-use feature called BI Vision which includes more KPIs and also provides users with the ability to select measures, drill through to specific results, and cross-filtering per dimension to really mine your data. With Vision, we also provide you with the option to select your own date range which complements the easy date filter buttons (Month to date; Quarter to date; Year to date; Last month, Last quarter, and Last Month).
Remember, what you can measure you can manage.
How does BI get its data?
The BI Module automatically takes a snapshot of your Unleashed records and performs calculations to generate summary KPI values. This happens on a regular basis (The timestamp at the top of the BI pages will show when last it was refreshed) and it saves you valuable time as there is no need to export data and import it into 3rd party software.
To ensure your KPIs stay relevant, this snapshot is inspected for record changes (e.g. new Sales Orders, updated Customer records, etc.). The record changes are then processed and summaries are updated. This updates your KPIs based on the changes detected within that inspection timeframe.
Of course, at the time of inspection and processing, there could be transactions that have happened and are not accounted for in the batch that's being processed. Not to worry because they will be included in the next inspection, processed, and calculated accordingly.

Tip: The best time to look at BI is early morning before any transactions are processed in Unleashed.
BI on Trial accounts
All trial accounts of Unleashed will point BI to one shared reporting database to allow trialists to experience BI without the need to load lots of data and transactions first. Data captured on trial accounts will therefore not synchronise to the BI reporting database.

BI on Sandbox accounts
To keep things simple, BI will not be available for Unleashed Sandbox accounts.
Warm data
We aim to refresh all values and graphs regularly, directly from your Unleashed database, no need to refresh or reload data, and the values are displayed in your organization's base currency.
We display a date-time stamp at the top of each BI page to indicate the last transaction in Unleashed related to values displayed on the selected BI page, also when the latest data refresh occurred. The "Last transaction date and time" is per context page therefore could be different as the scheduled refresh for the BI Inventory page is every hour for BI Vision subscribers and every 4 hours for Foundation users compared to Purchases, Production, Sales, and Customer which is every hour.
For example, the new Dashboard will display the last transaction across all contexts plus the duration since the last refresh.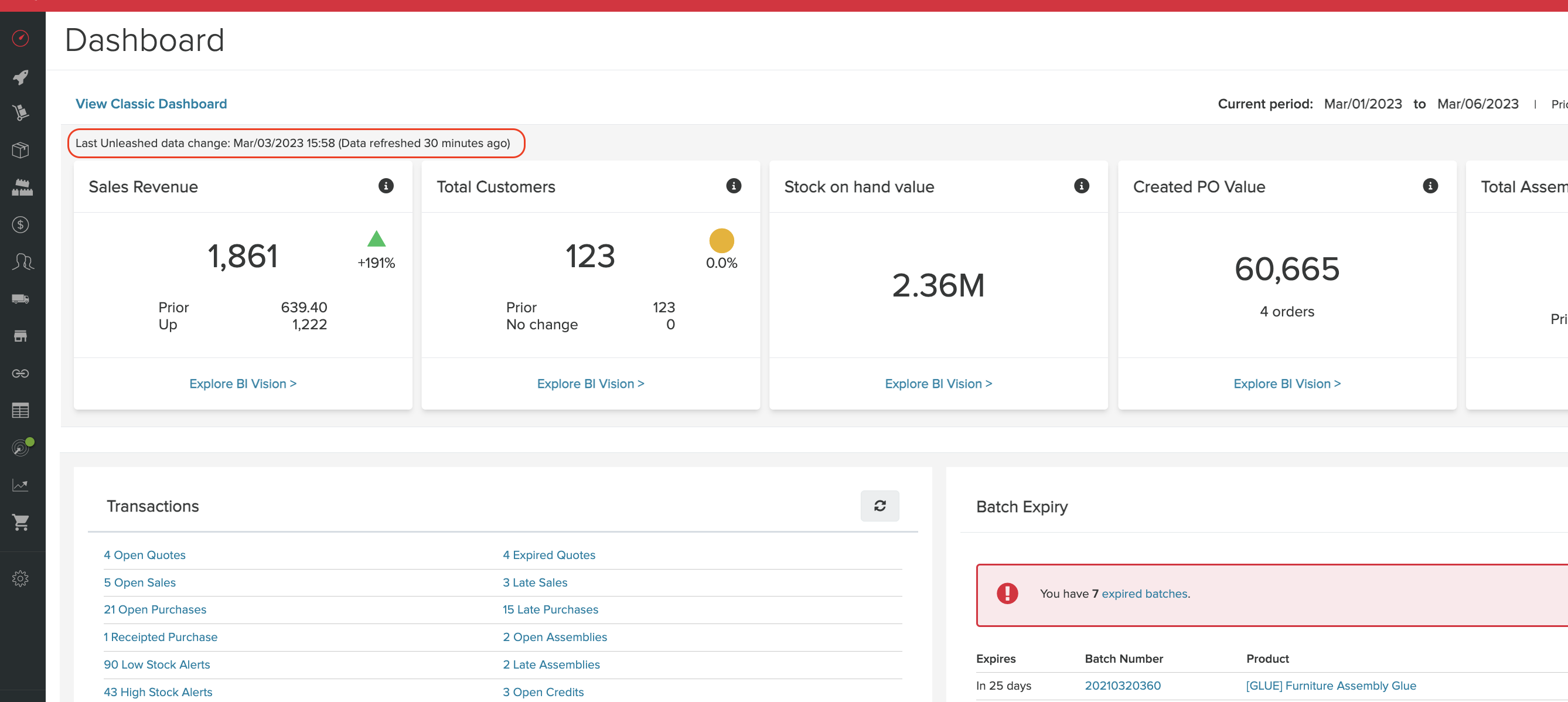 Sales; the latest Sales Invoice date: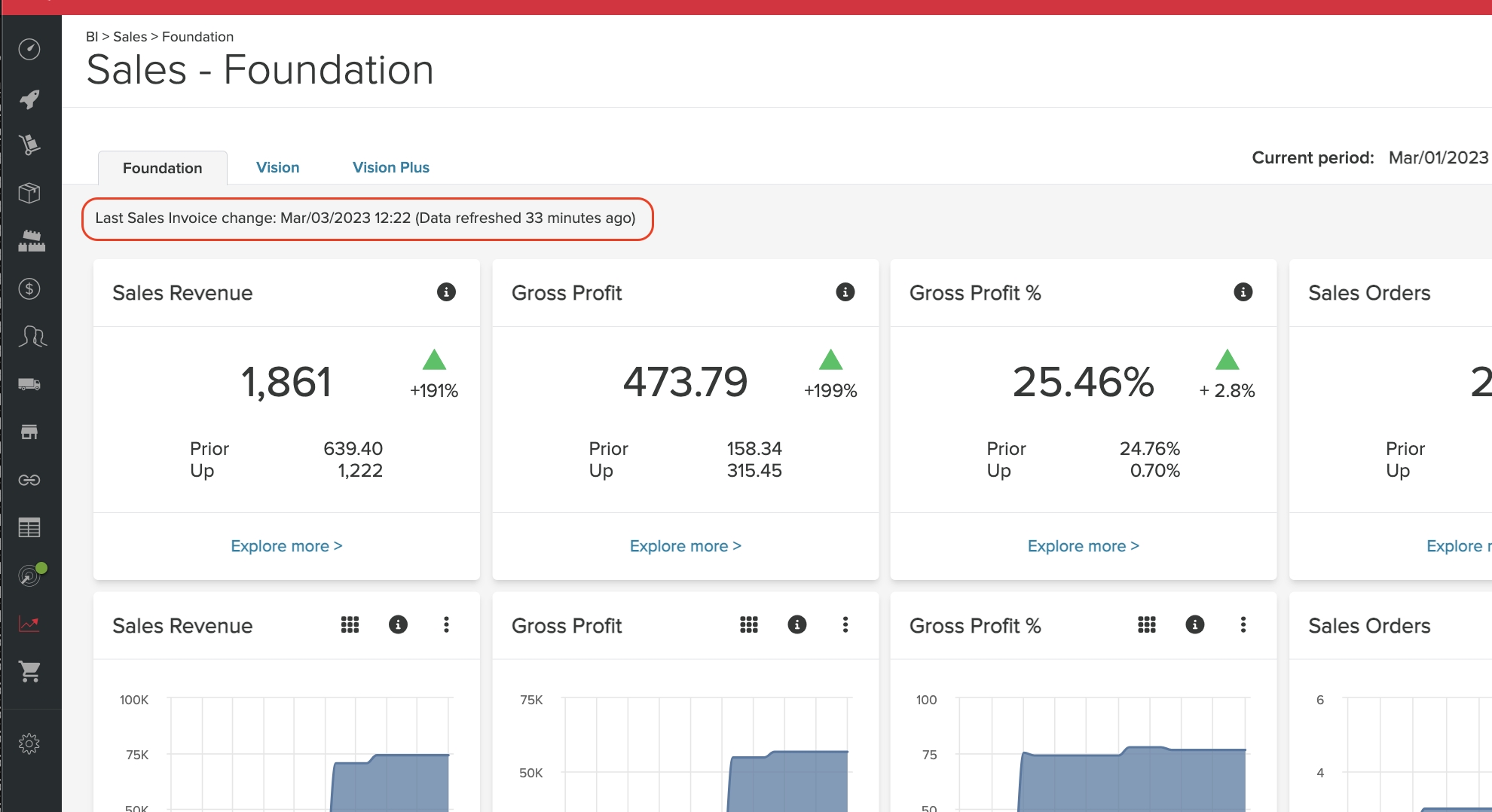 Customers; the last Customer change.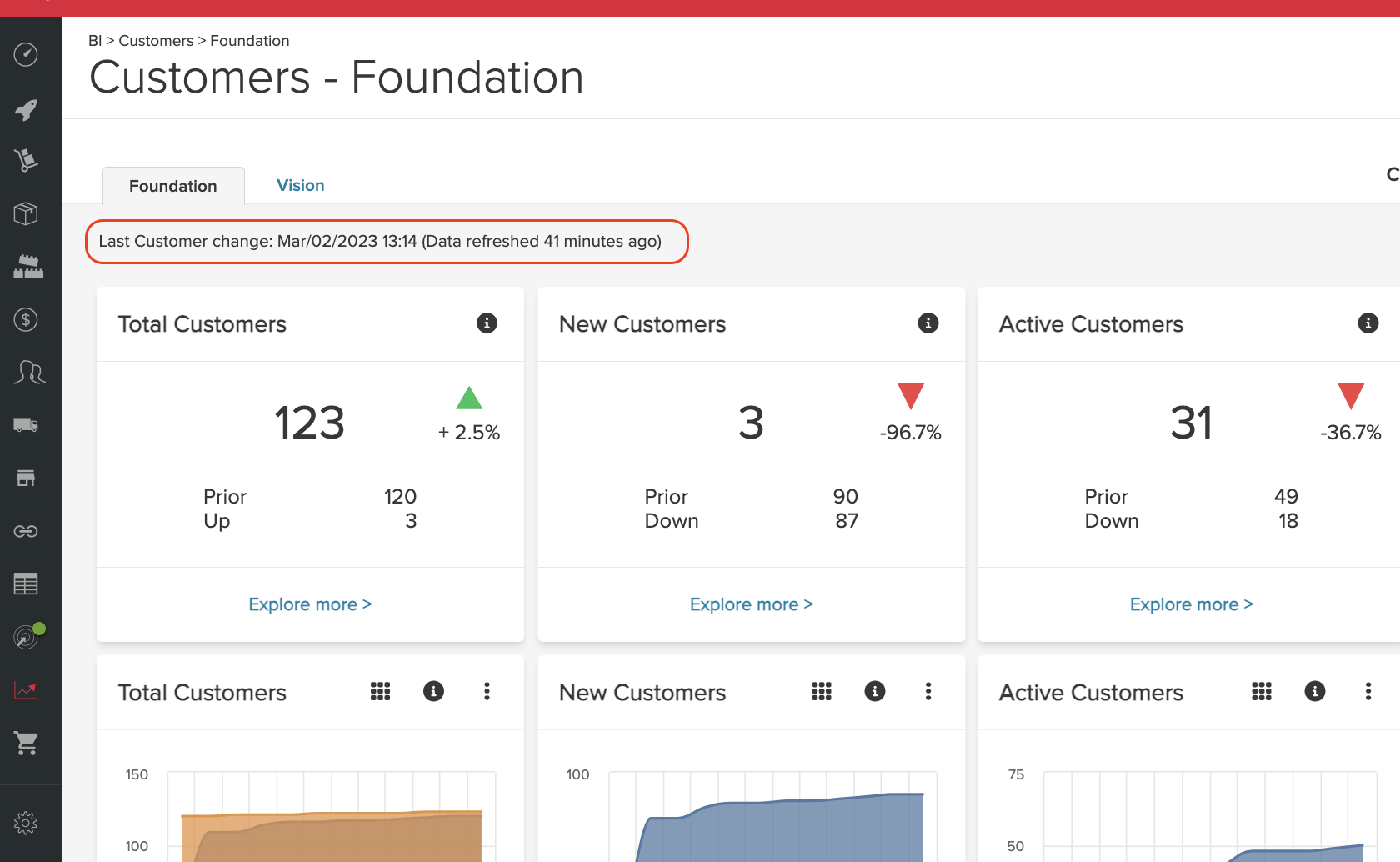 Inventory, the last stock transaction.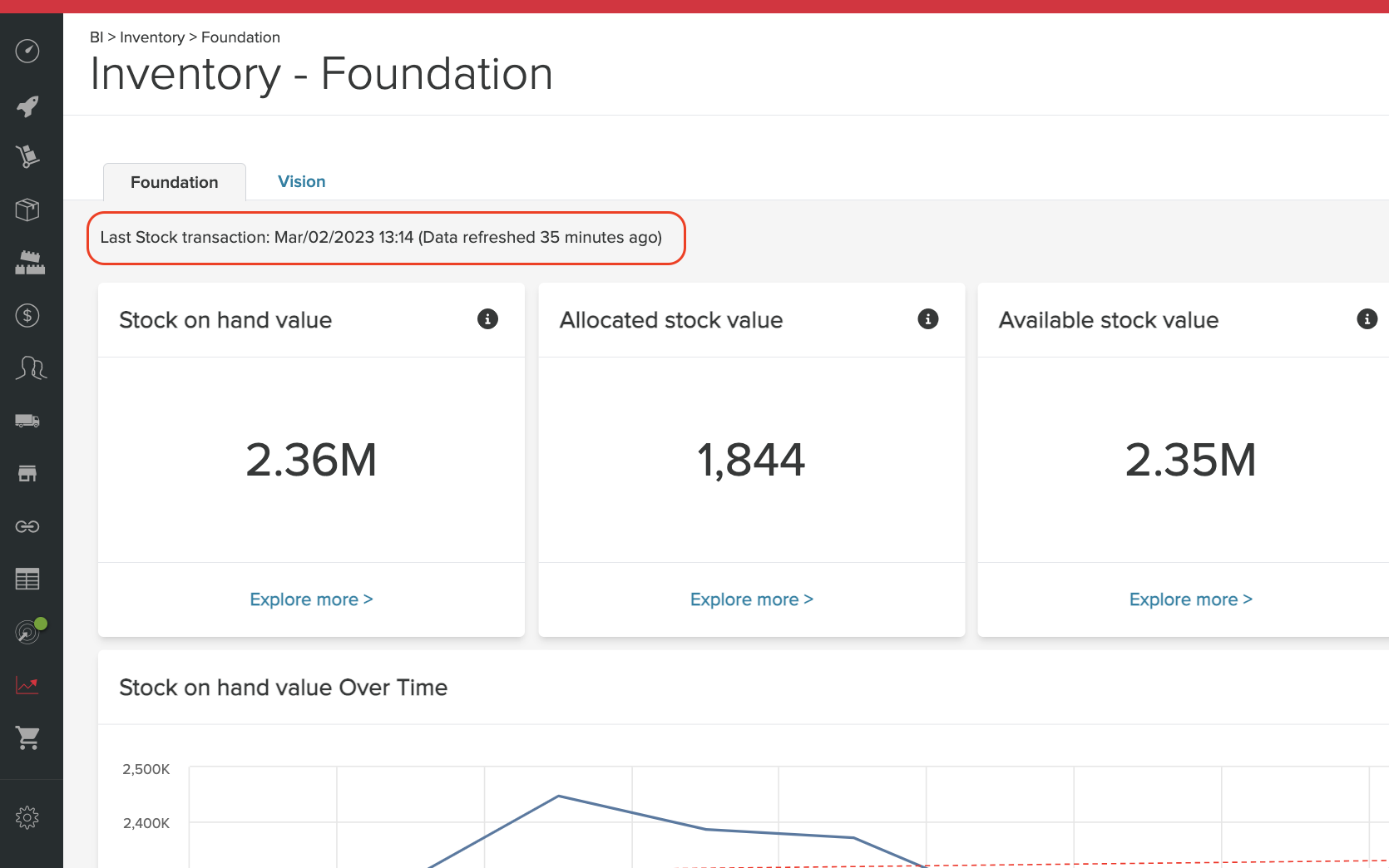 Purchases, the last Purchase Order change.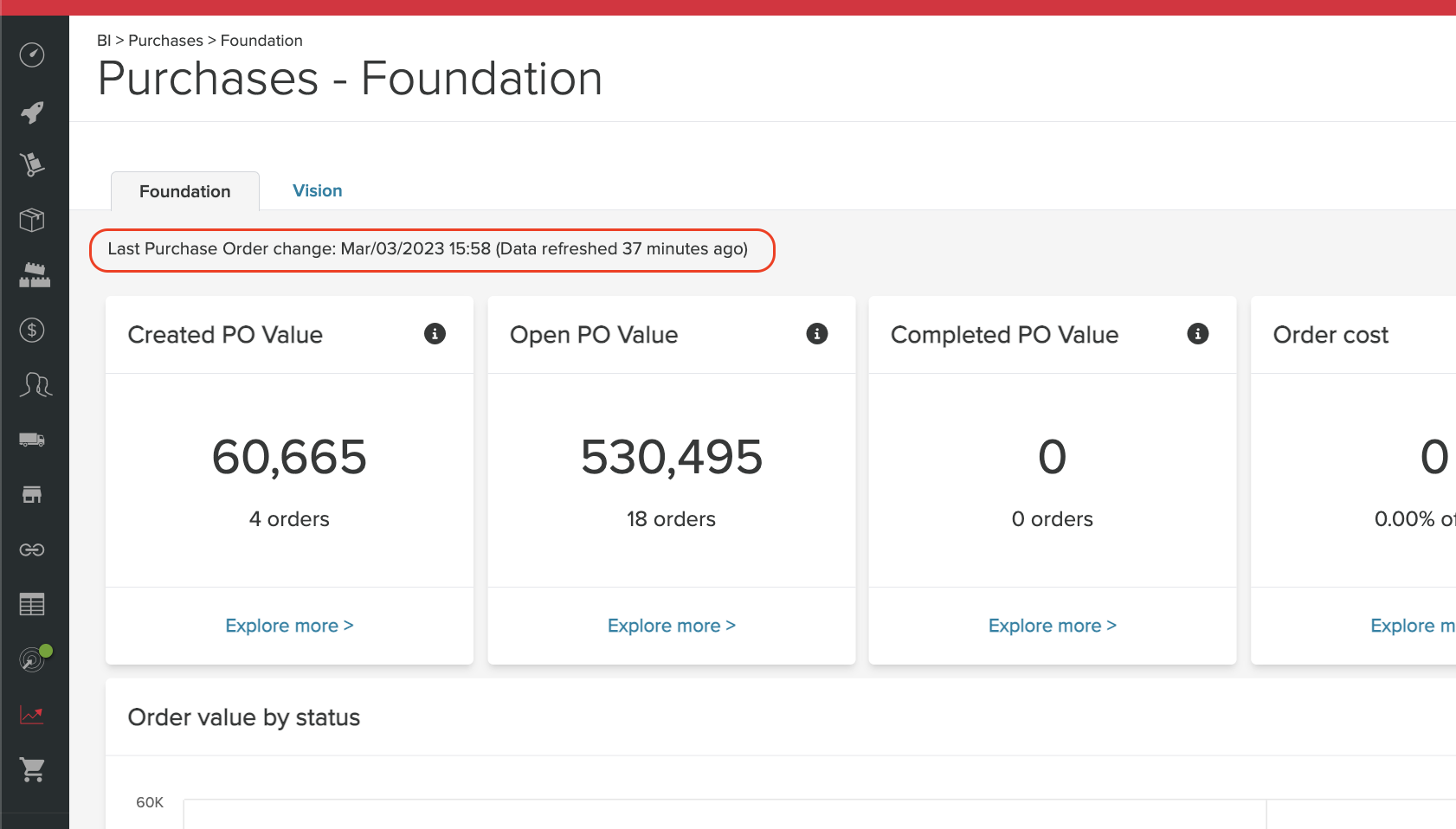 Permissions
Under the Role Permissions section of Unleashed, you have the ability to set permissions per user role to only allow specific users to access and view these BI pages.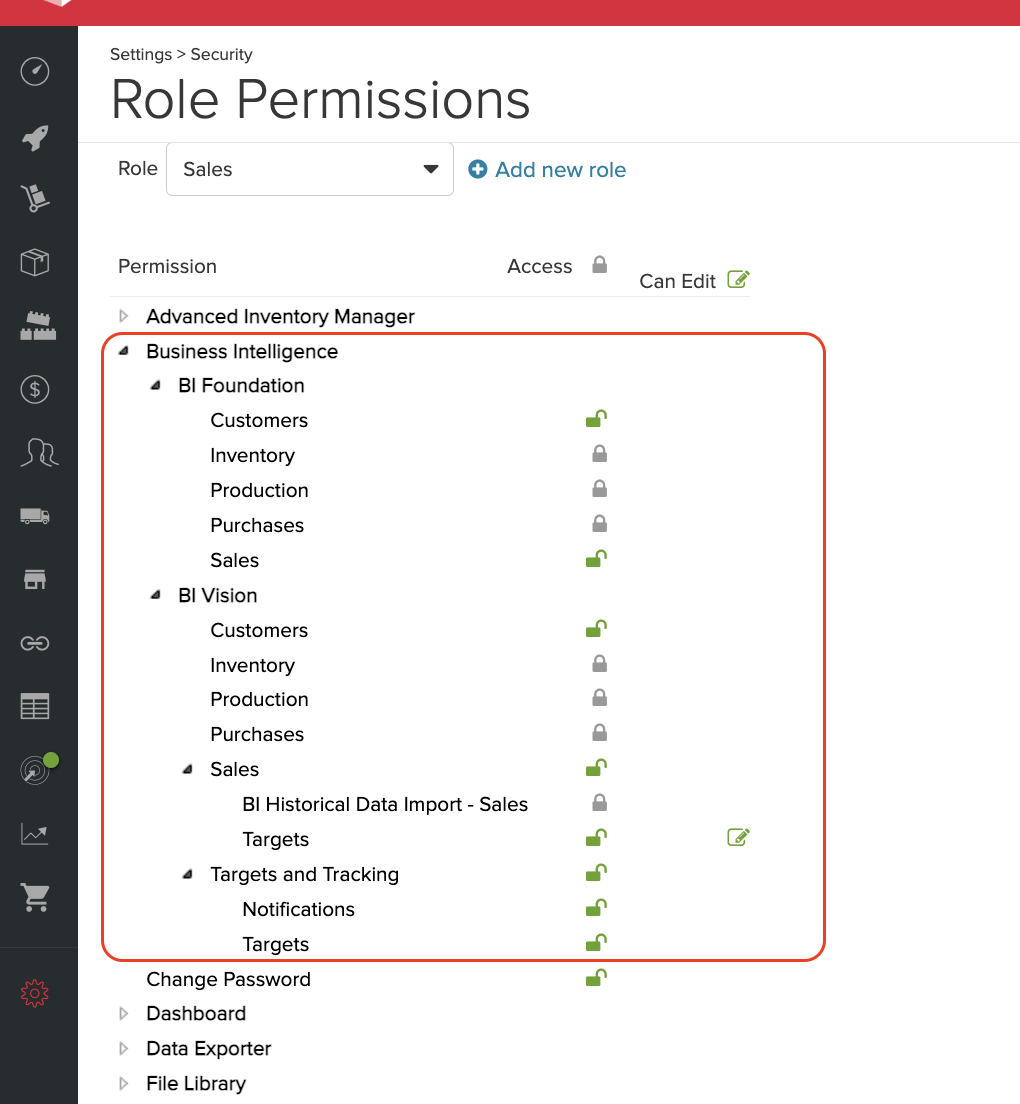 Setting up role permission as indicated above, for the Sales role, will indicate to the user on the main dashboard that there is more context but they do not have permission. These contexts, which these users do not have permission to, are hidden when they look at the side menu under Business Intelligence.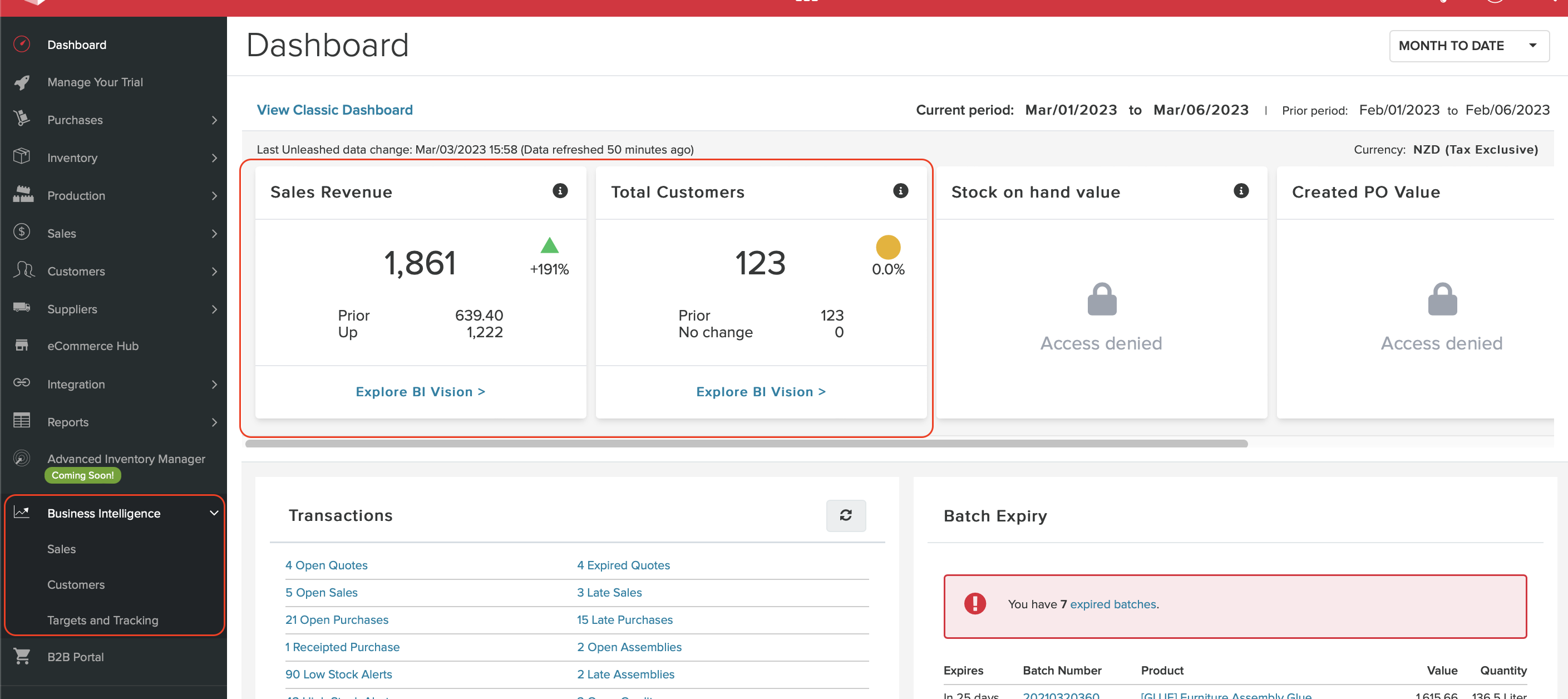 Customize your BI Vision page layout
As part of your BI Vision subscription users are able to customize the layout of BI Vision pages. At the top right-hand side of a BI Vision page, you will see a drop-down field showing [UNLEASHED DEFAULT]

Selecting this field you will see a [+ NEW CUSTOM LAYOUT] option.

By selecting this option you will enter the Edit mode and will see a few extra options at the top of the page. Give your layout a Name (has a maximum of 20 characters) and click on Create to get started.

Now you can customize the Vision page layout, just click on the Edit option next to the layout name.

What are these options for?

- Default: This will make the custom layout your default for the page.
- Components: If you removed/hidden components you can add them back by selecting this option.
- Clear: will remove all KPI's and Dimensions from the page (Except for one KPI).
- Reset: will reset the page to the Unleashed Default layout
- Create: this will create a custom layout. (This will turn to Save once you created a custom layout.)
- Delete: only available for saved customized layouts.
- Exit: will close the edit mode
Removing components:
In Edit mode click on the X visible on each component or click on the Clear option to remove all of them in one go.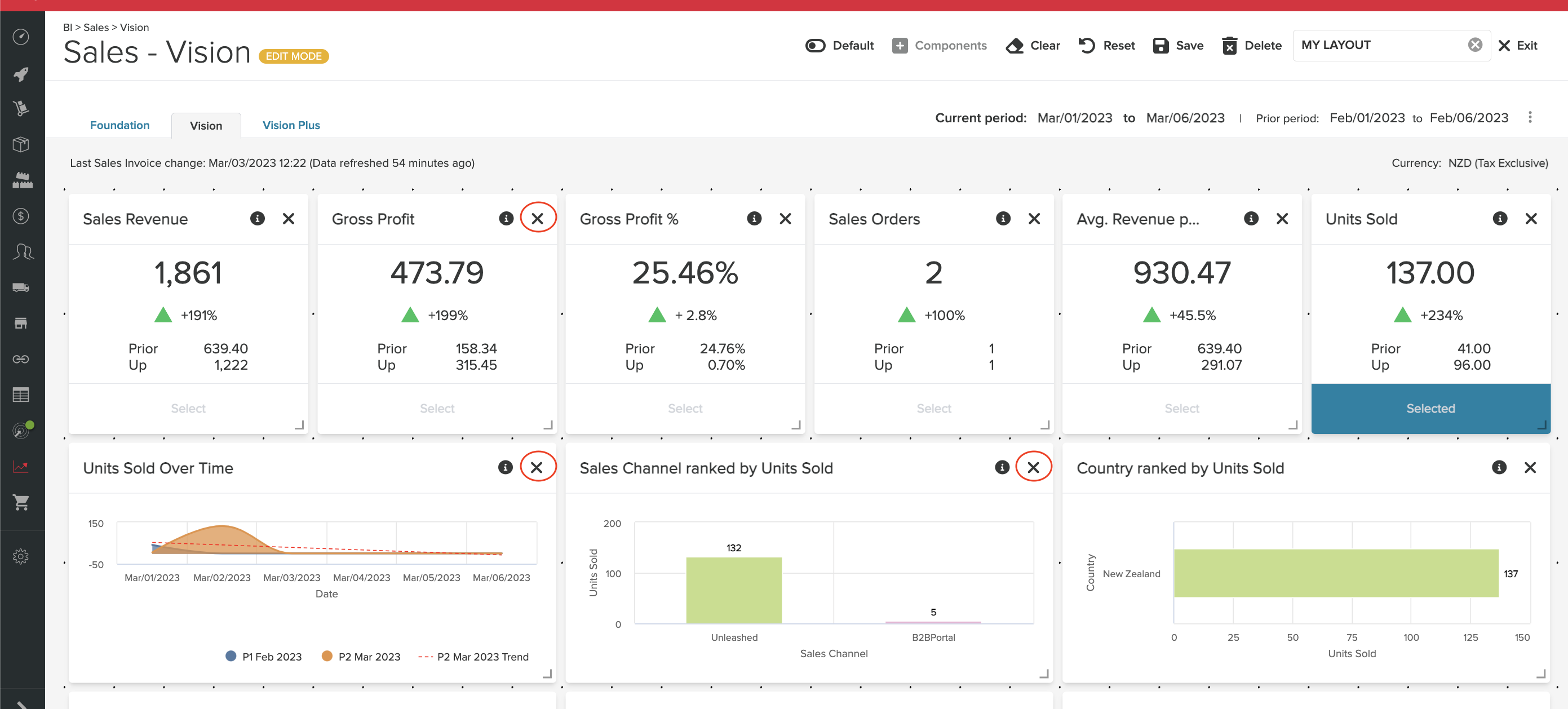 TIP: When adding components back to your layout, always first add KPIs as they control the content of the dimensions.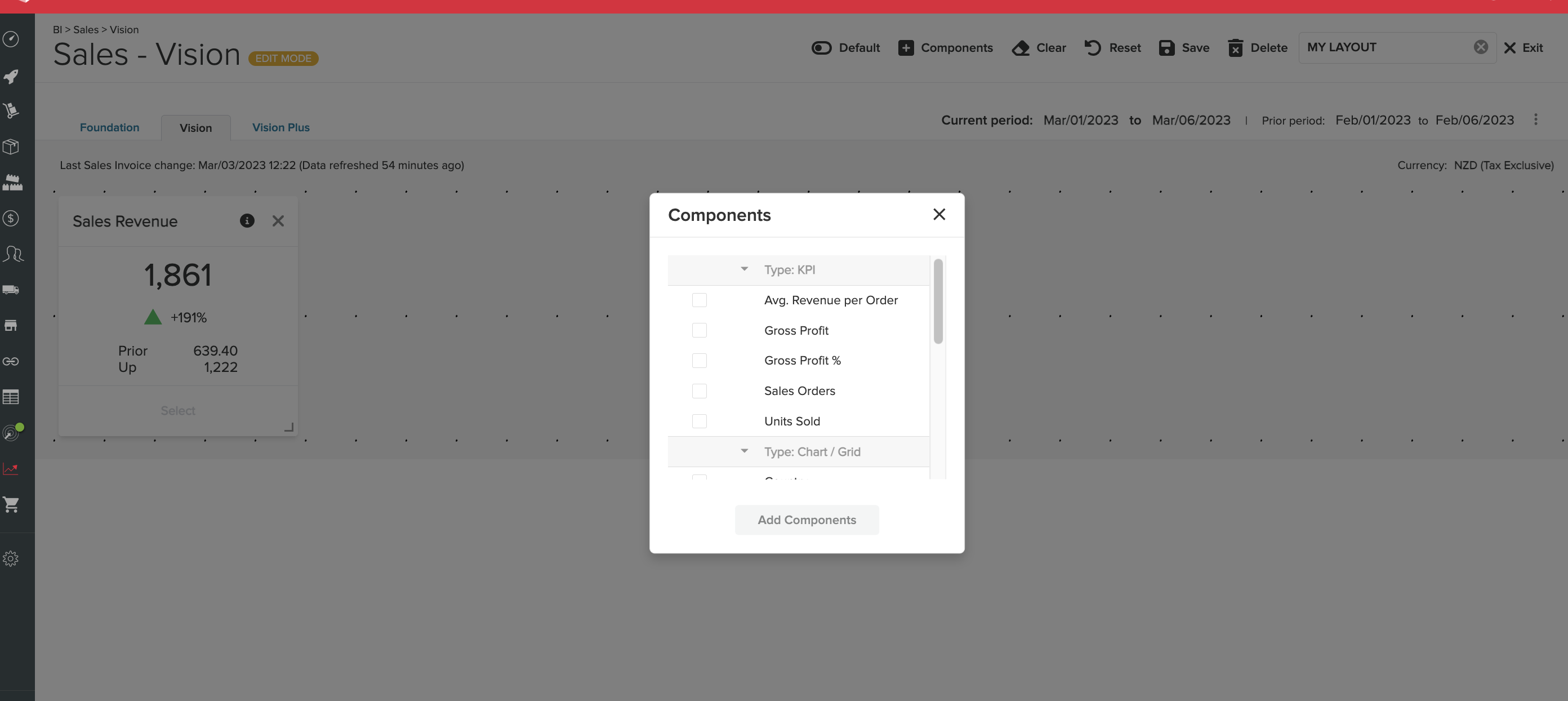 Moving Tiles:
In Edit mode click on the heading of KPIs or Dimensions to select and move the tile.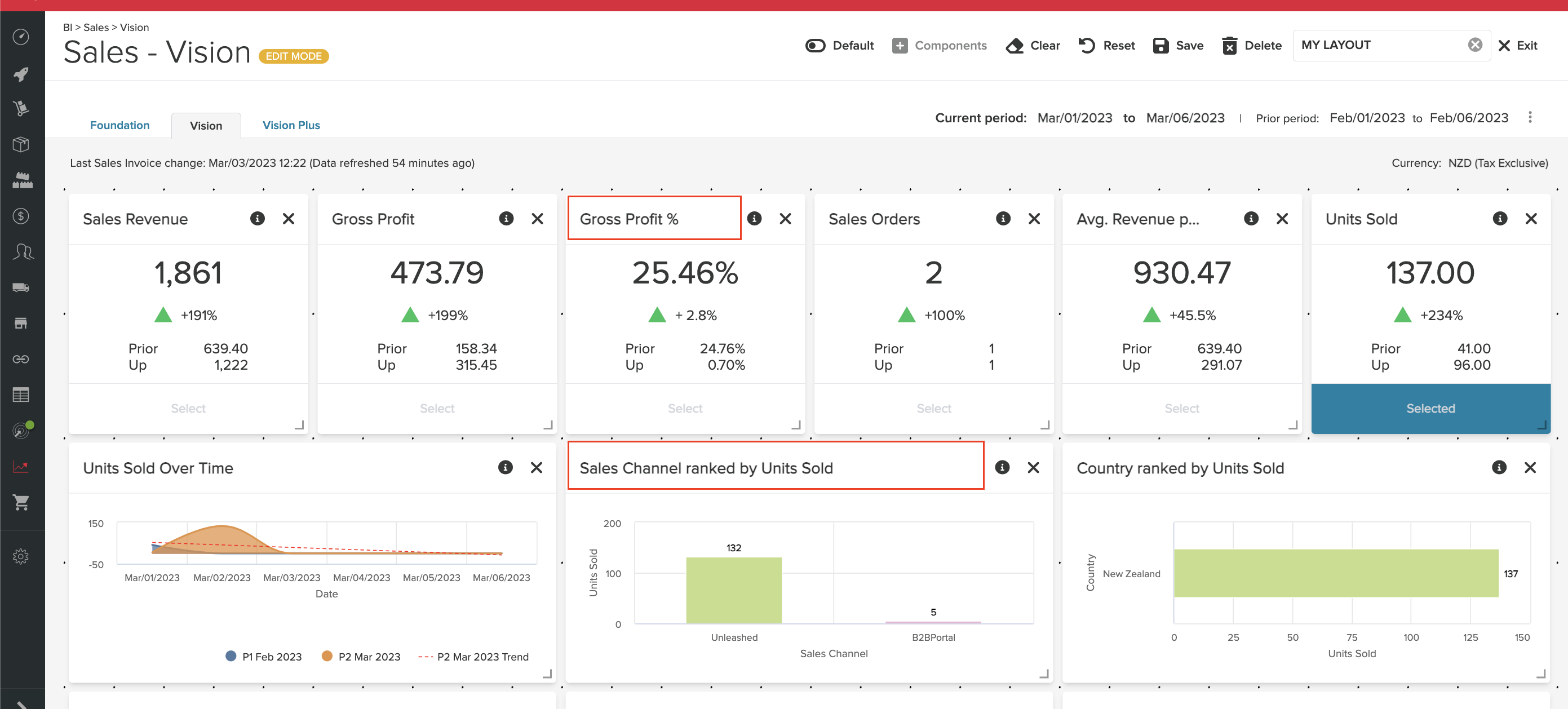 Resizing Tiles:
To resize tiles drag the hot corner at the bottom right-hand side of each tile. NOTE: There is a limit on the minimum size for these components.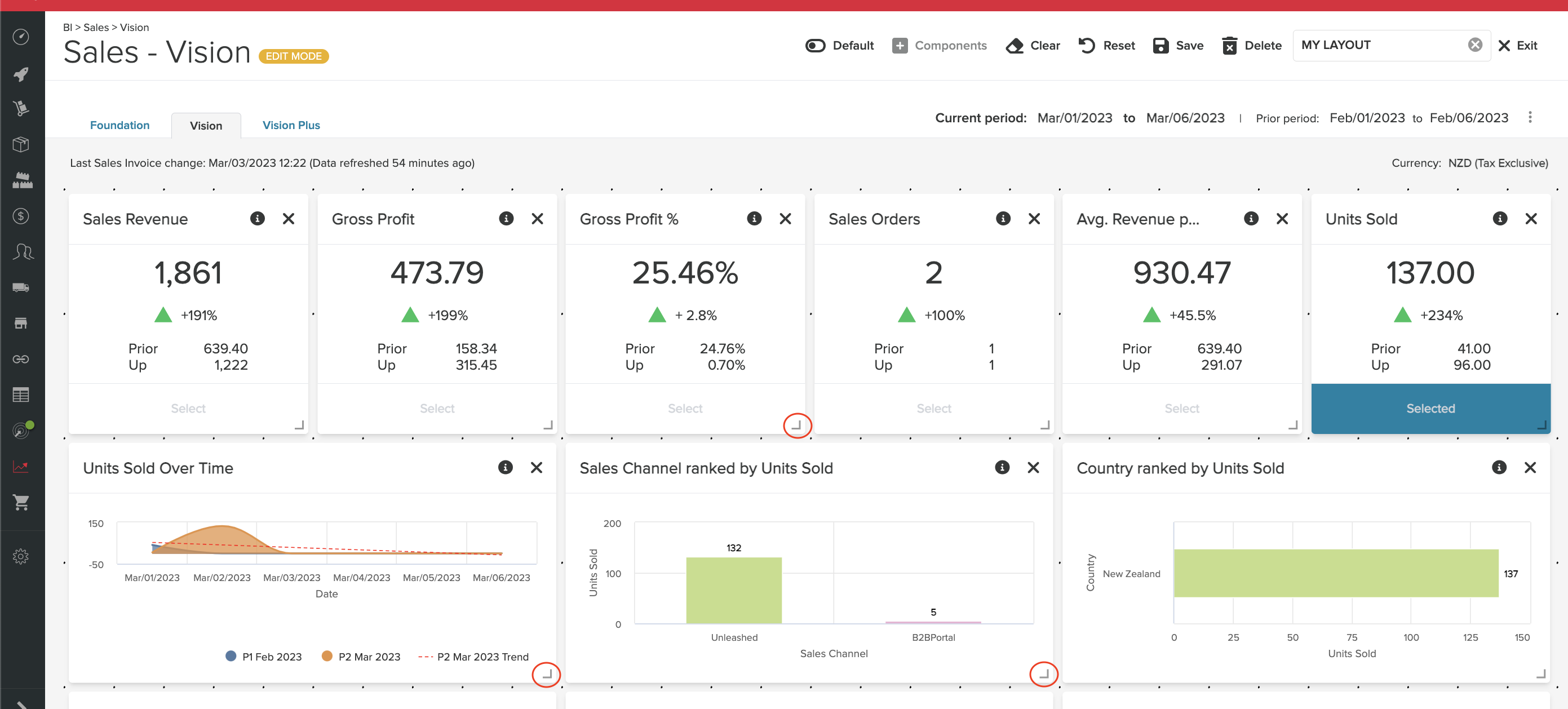 Note:
- All users with permission will be able to save 3 custom layouts.
- We are going to allow users to change the chart types they prefer to see for each dimension.
Some basics of BI to get you started
After permission has been granted the new Business Intelligence Dashboard and Icon on the side menu will be available.
The BI Dashboard will allow you to easily navigate to the different contexts right from the start when you log in. Use the "Explore more >" link underneath each available KPI tile to navigate to the context page.
Note: BI Vision subscribers will see the link as "Explore BI Vision >" which will take users directly to the BI Vision page.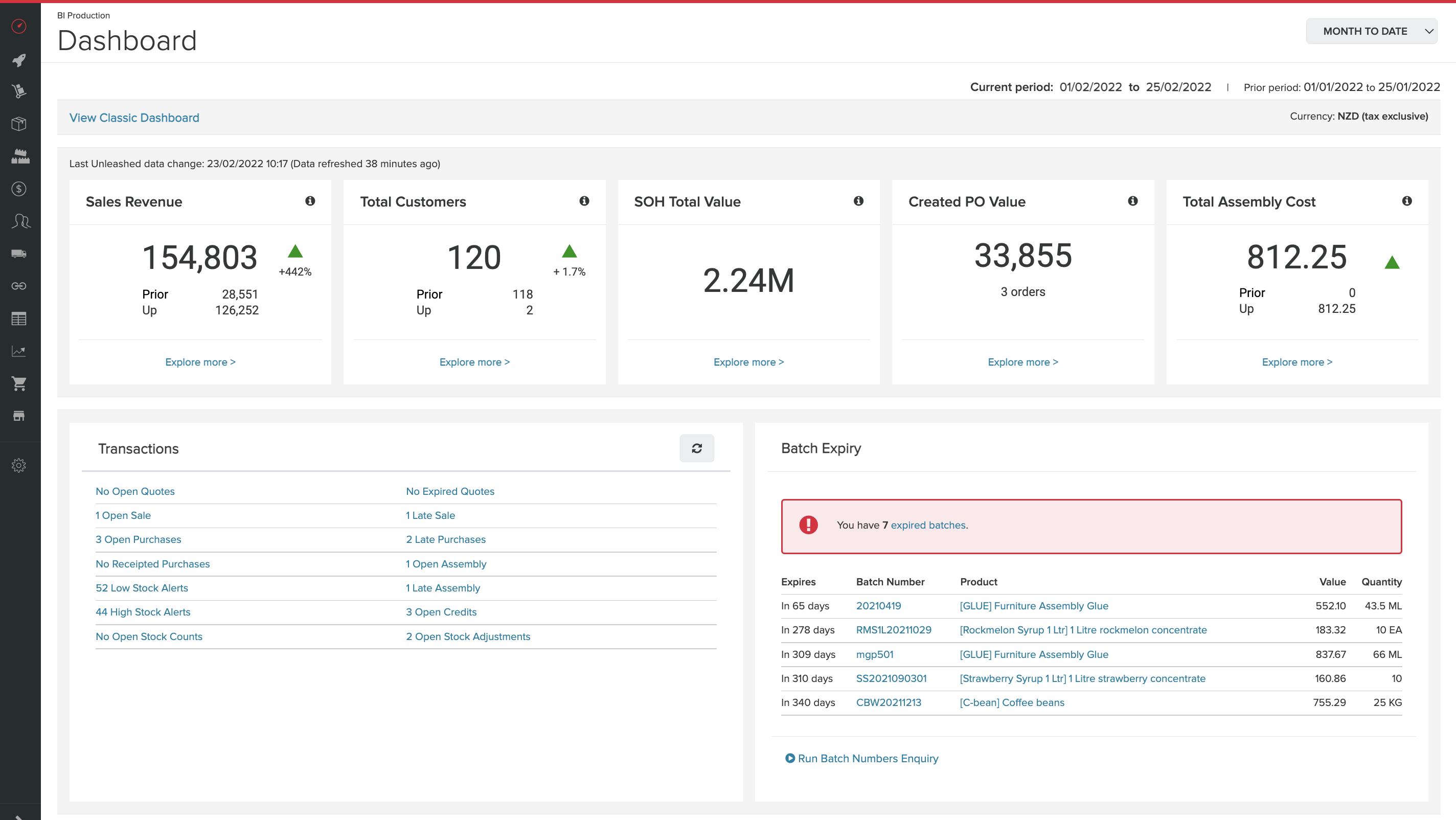 Another option is to use the side menu bar to navigate to any of the 5 Business Intelligence pages. (Targets and Tracking menu is only available to BI Vision subscribers.)

Future development of BI will include more analysis and functions which will be added to each context as additional tabs, allowing you to access features as we develop them.

Tooltips
Look out for the tooltip icon (i) available for most KPIs on the top right-hand corner for more information on the KPI and values displayed.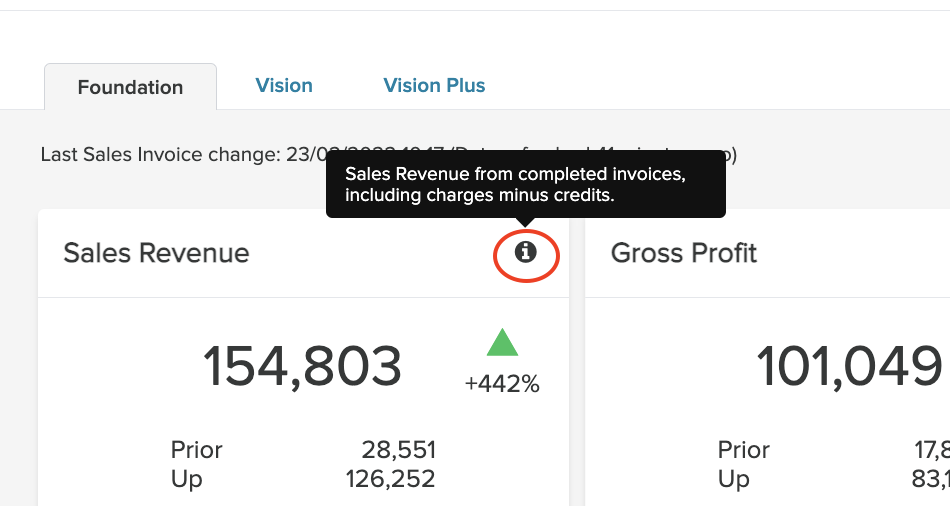 Printing the page.
You are able to easily "print" the BI pages (Purchases, Inventory, Production(assemblies), Sales, and Customers) to a PDF or PNG file by using the Screenshot feature which is available, just click on the more options kebab menu and select Screenshot.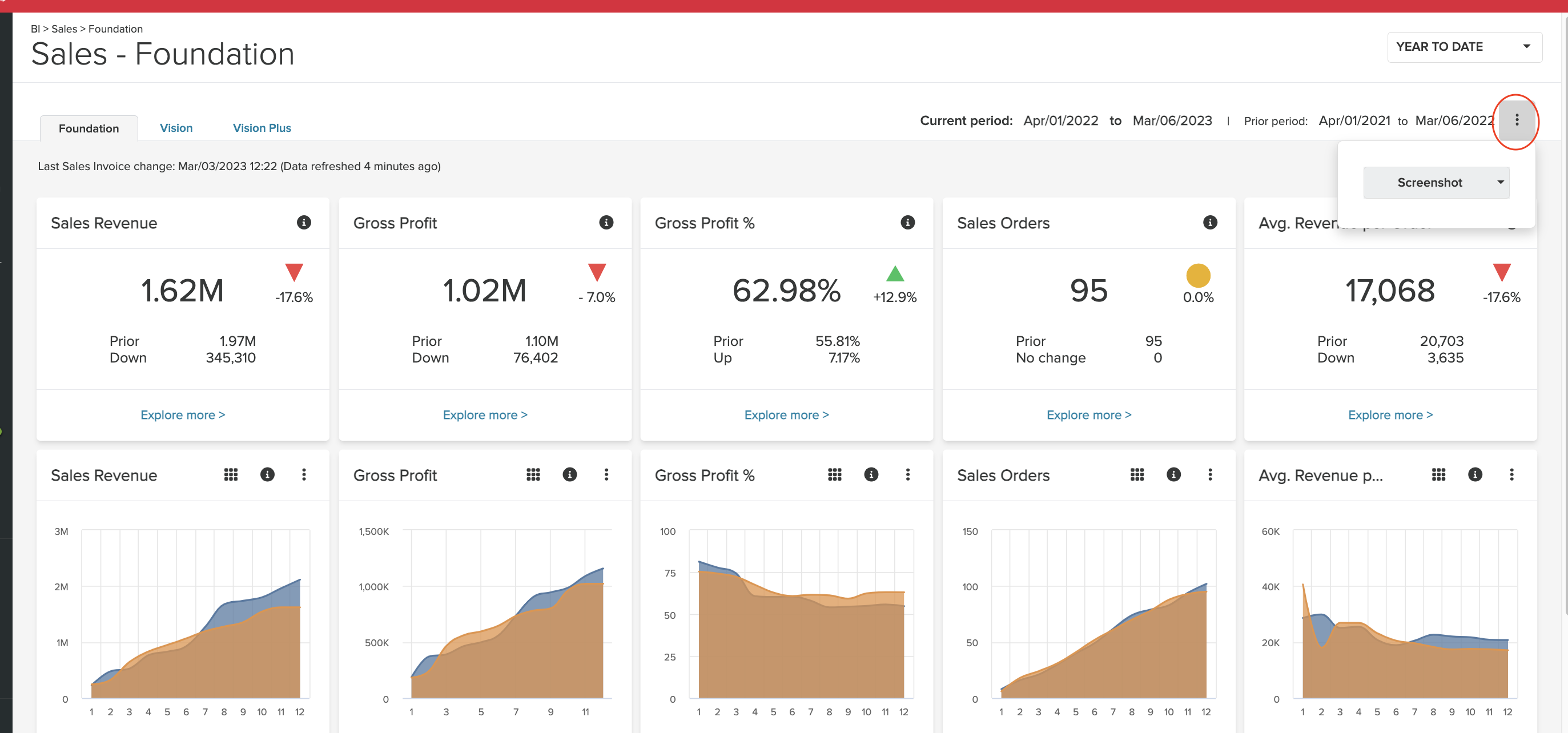 Date Selection
Easy date filters (Not available on BI Inventory) is a drop-down list at the top right of the page, it will help you to filter the majority of KPIs easily and the date ranges (Current and Prior periods) will display based on your selection. The default selection is Month to date.
Definitions:
Last Month = Previous completed Month
Last Quarter = Previous completed Financial quarter
Last Year = Previous completed Financial year (derived from Financial Year End on the Company Settings page.)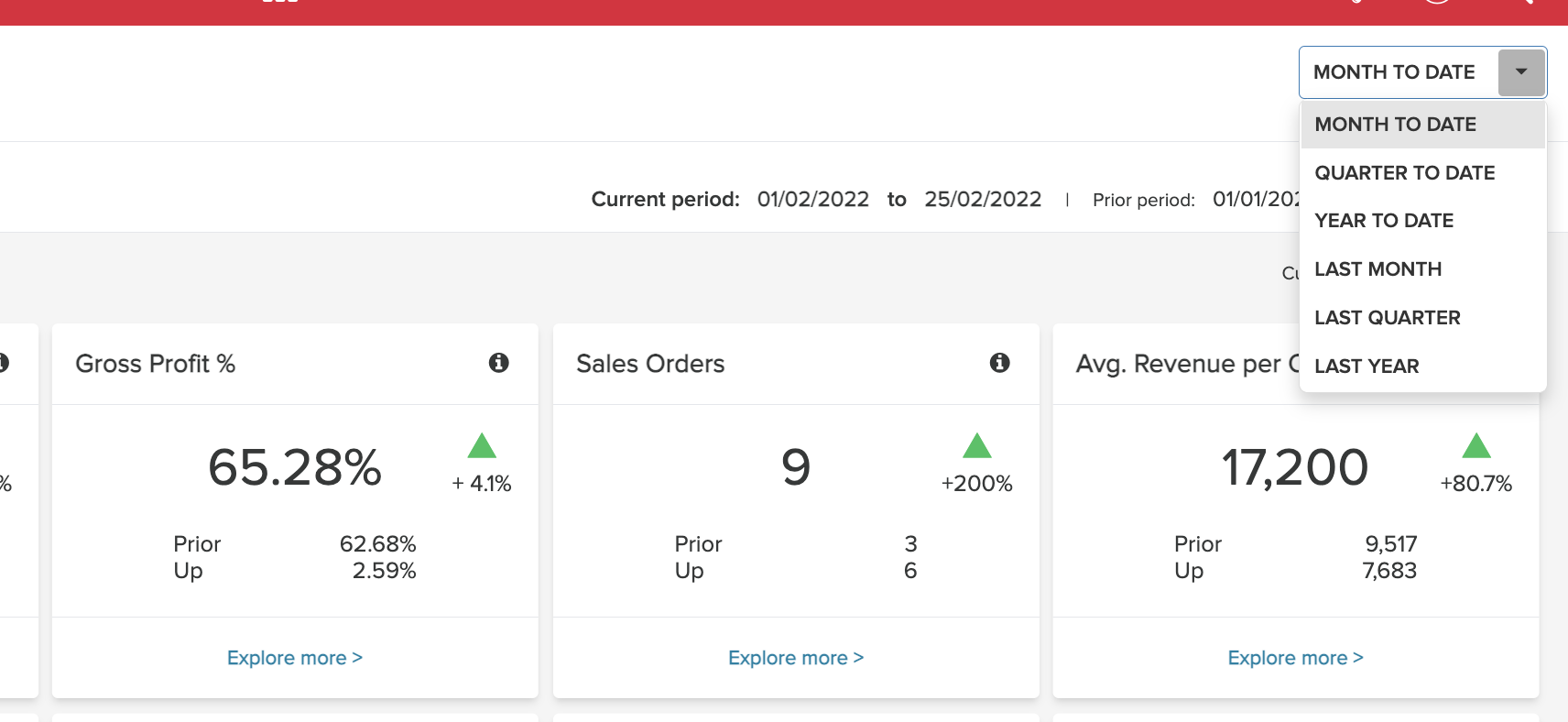 In BI Vision (Excluding BI Inventory) you will have the option to enter or select your own From and To date range (This is a BI Vision Exclusive feature and not available on the BI Foundation pages). Select "CUSTOM DATE" from the dropdown list.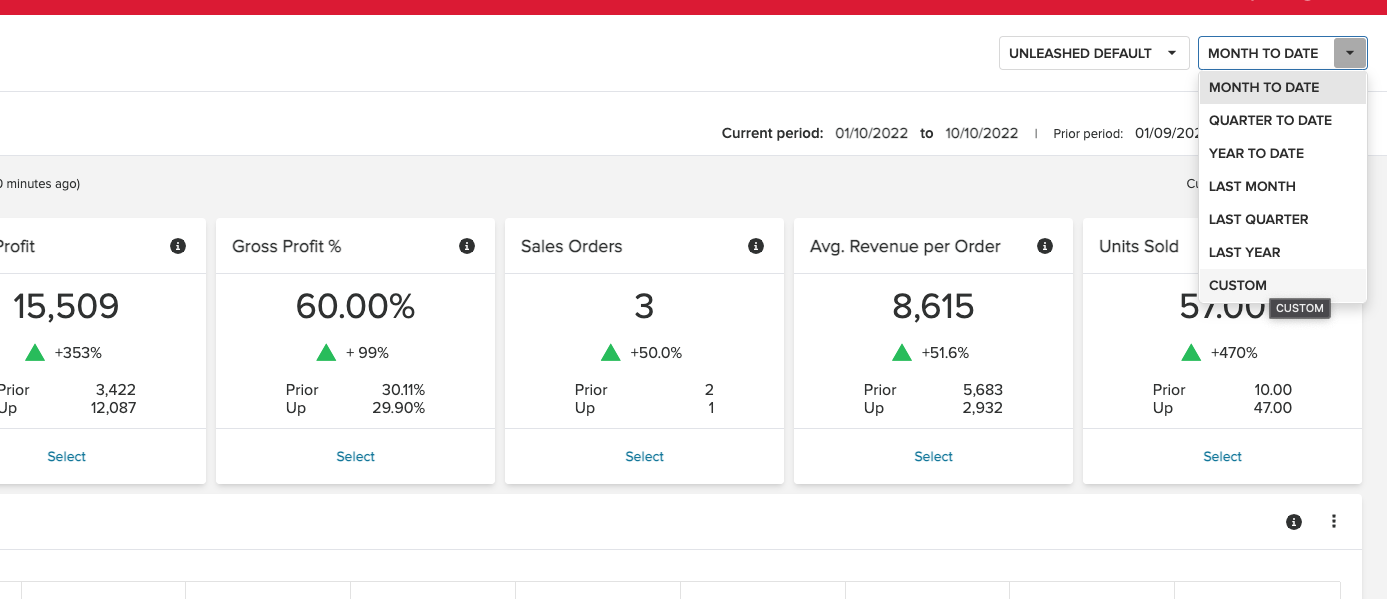 PLEASE NOTE: Select a From and To date. When using the custom date range the system will always compare the range you entered with the same date range just for the previous year, eg. select 01/08/2022 to 10/10/2022 will compare this period with 01/08/2021 to 10/10/2021.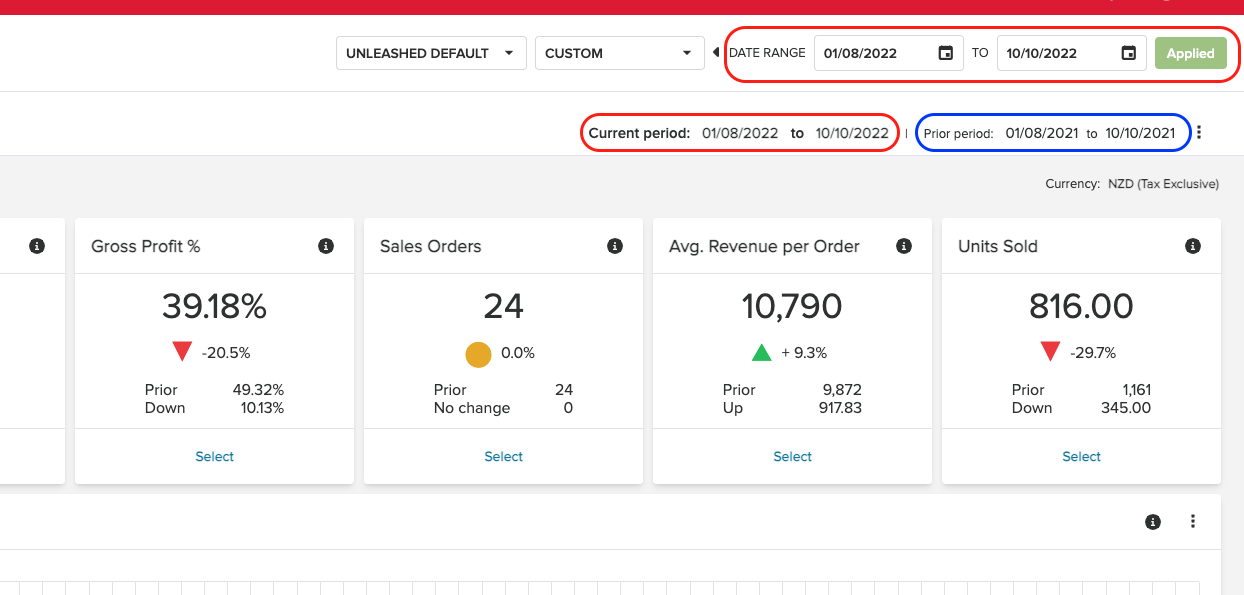 Navigation
Navigating through the BI pages is easy, you can use the side menu bar to select a context. Then when a context has been selected the default page will display BI Foundation for that context. Navigate to Vision (pay-to-use module) by selecting the Vision tab or clicking on the "Explore more >" link available on most KPI tiles.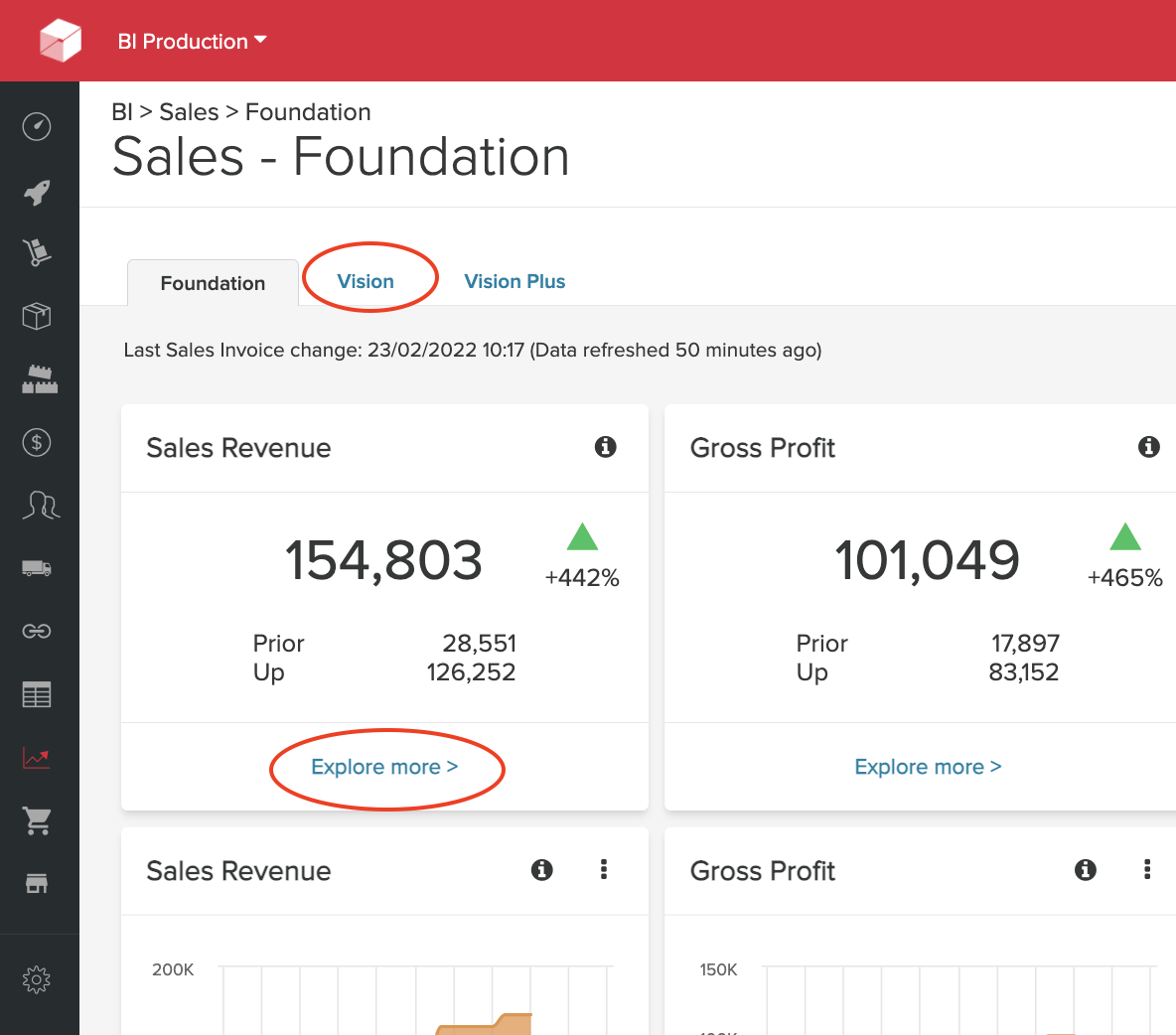 PLEASE NOTE:
KPI Values in BI are rounded up so we do not display any decimal spaces, comparing BI with Unleashed Reports will, therefore, have different values.
Show number of Records (BI Vision only):
On dimensions, we have a More Options menu. The top 25 records per dimension will display by default. There also is a Top 100 easy selection button available.

NOTE: All dimensions are limited to only show the top 100 records. A list of all records are available when you use the export all to CSV function.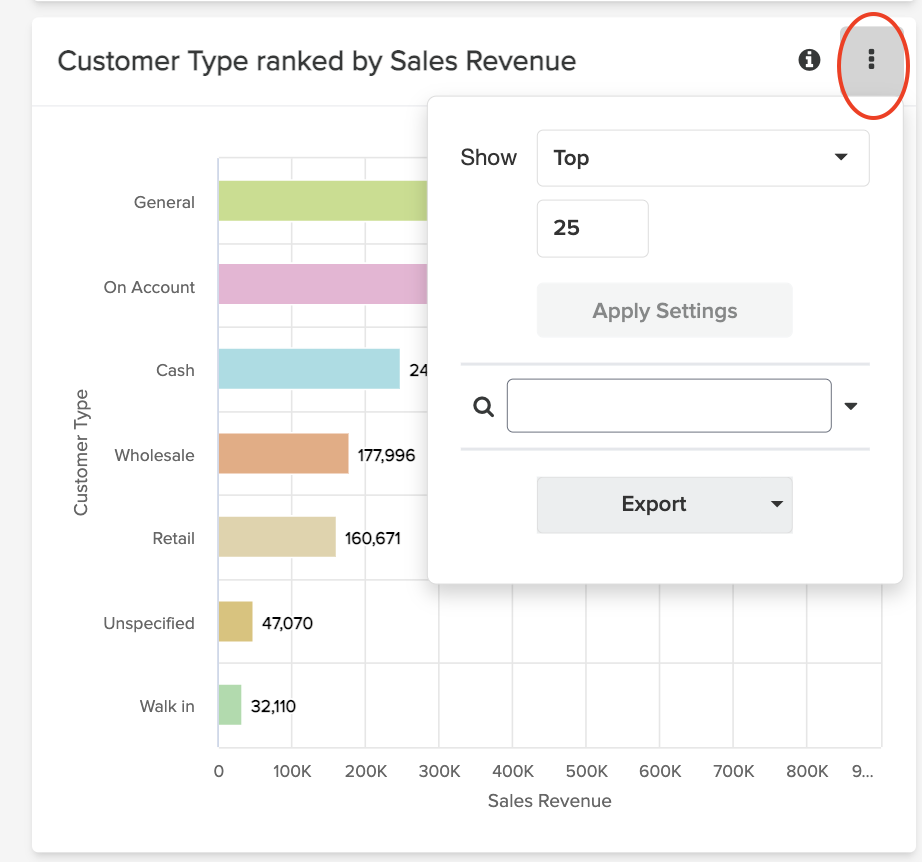 You are also able to change this to show top X for the current session, just click in the field, enter the number, and select the Apply Settings button. The dimension will now show you the list of the top X records.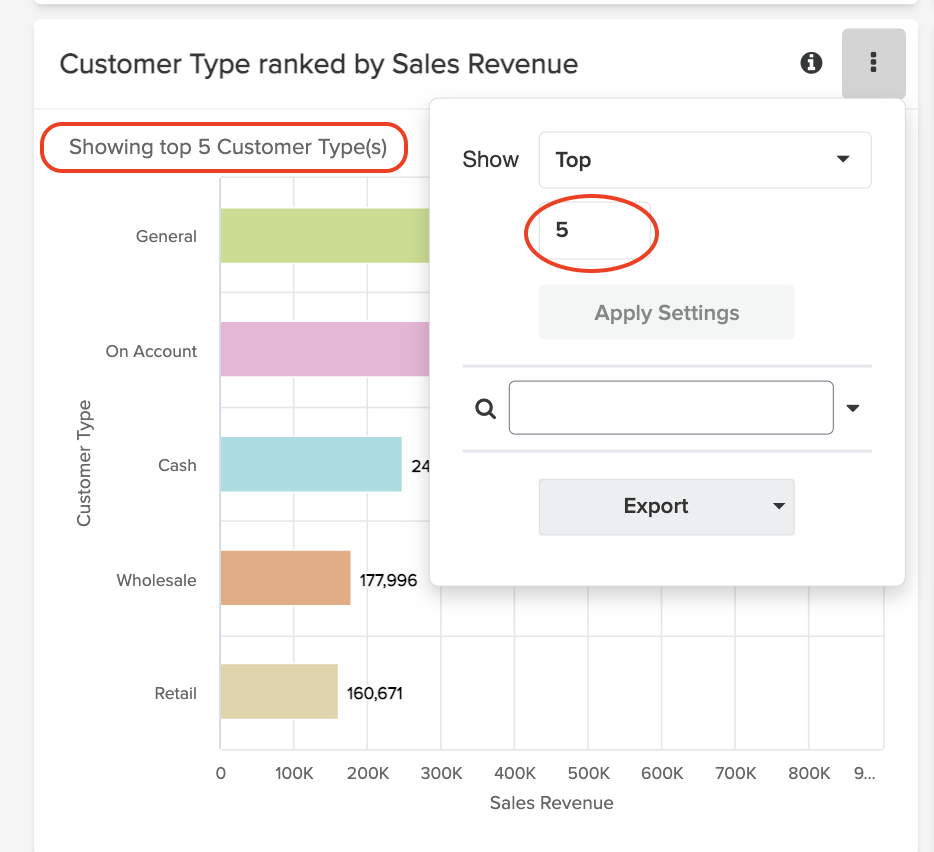 Selecting [SHOW ALL] from the options will display all the records for the dimension, this potentially could be a lot of records.
To reset the view, select "SHOW TOP 25" on the dimension or just click on the "Reset View" button to reset the view on all dimensions to "SHOW TOP 25", the default if there are more than 25 records to display.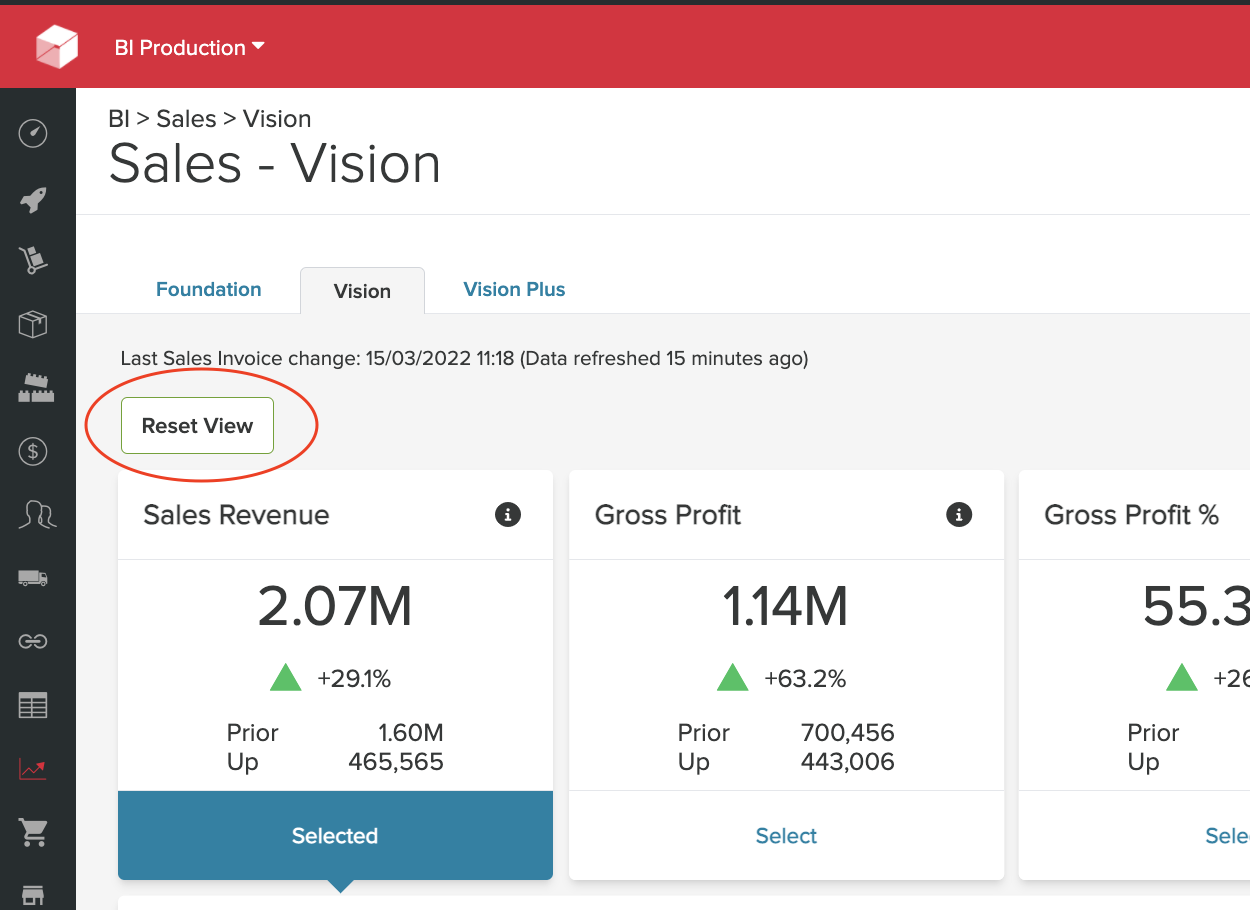 Search on dimensions and Multi-select/deselect results (BI Vision only):
You are able to search on dimensions and multi-select/deselect records in BI Vision.
Click on the "More Options" kebab menu on the top right-hand side of a dimension.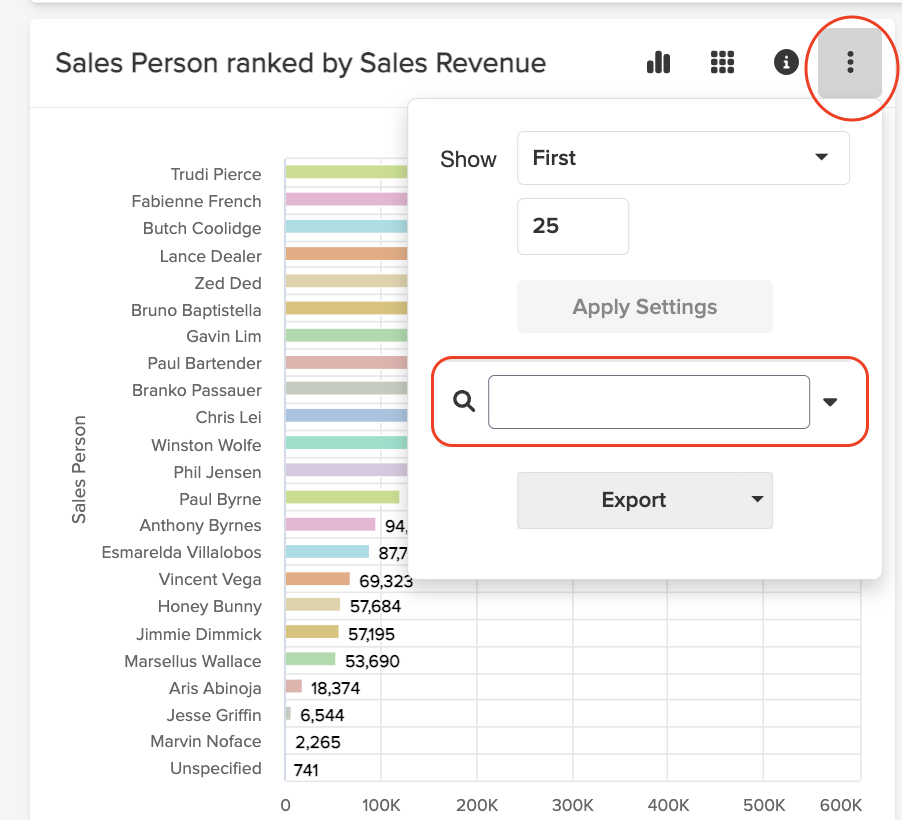 Click on the field next to the magnifying glass and start typing your search criteria. After the first 2-3 letters, matching results will display with checkboxes to select some or all results. Make your selection and click on the Apply Filters button to filter and retrieve the results.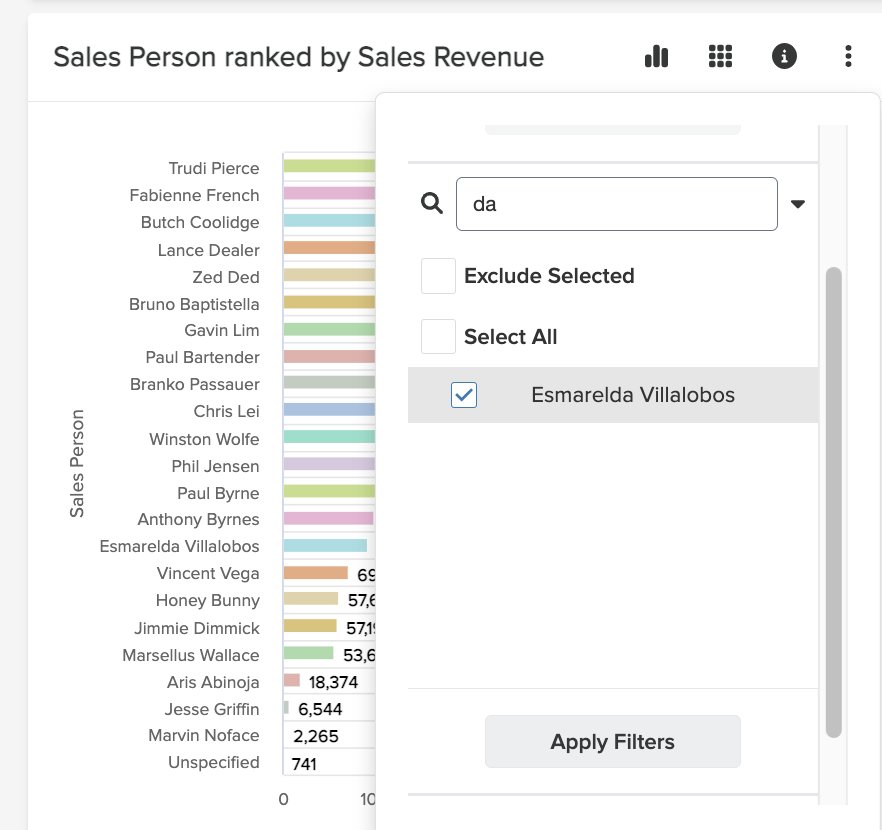 This will add the selected cross-filters to the top of the page, with the KPI values and dimensions updated with your selection.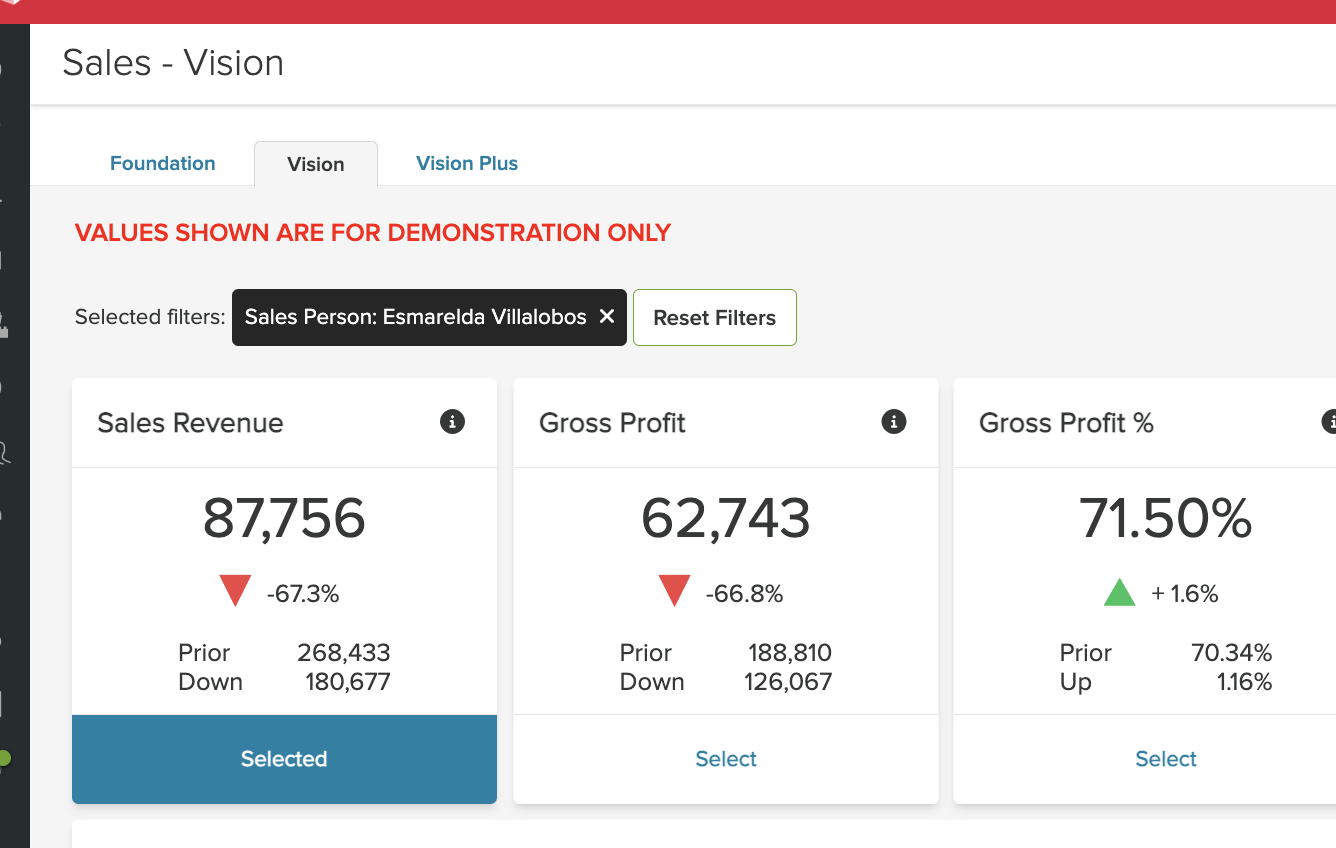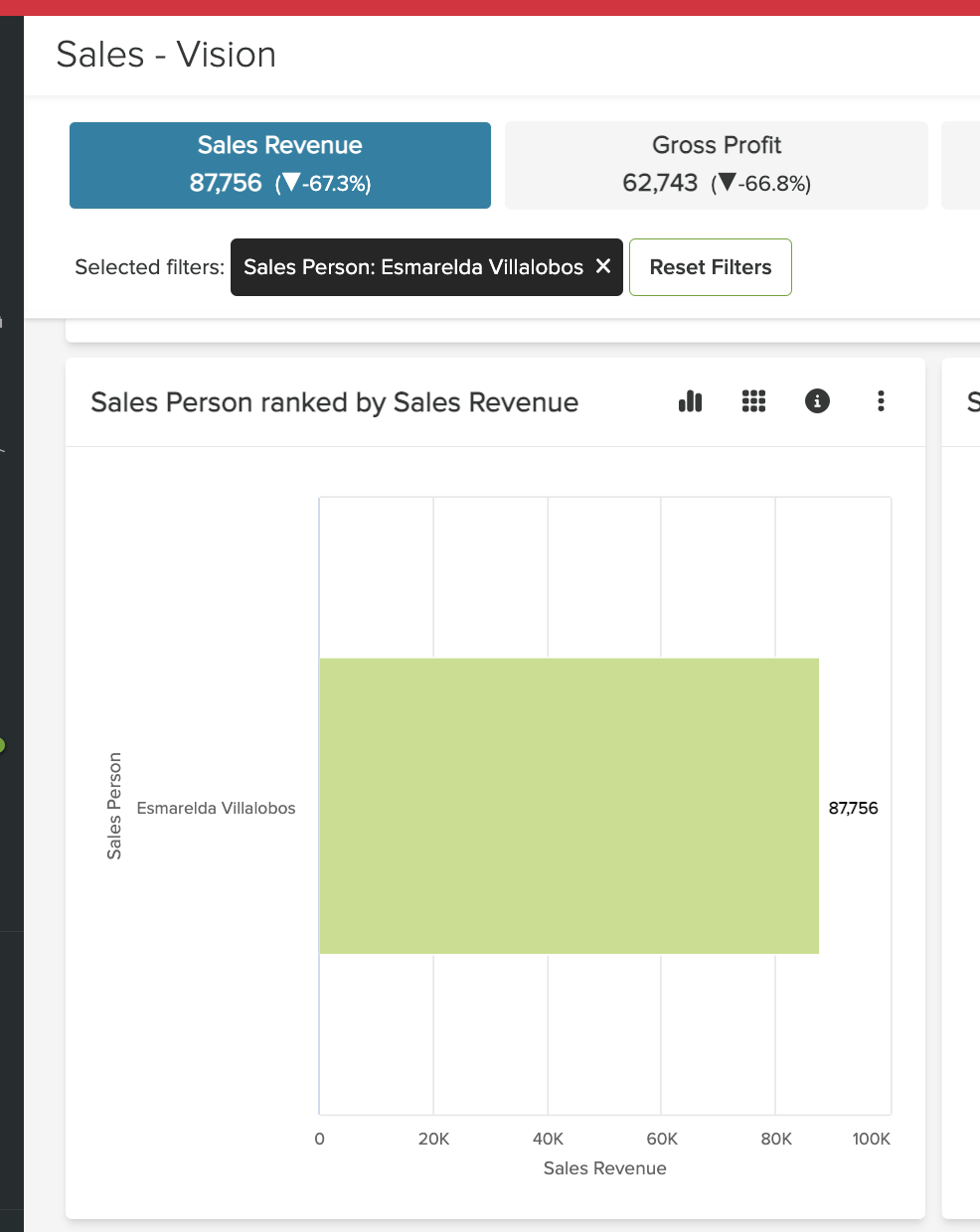 You can also click on the expand arrow next to the search field to expand the list of options available on the dimension to select from.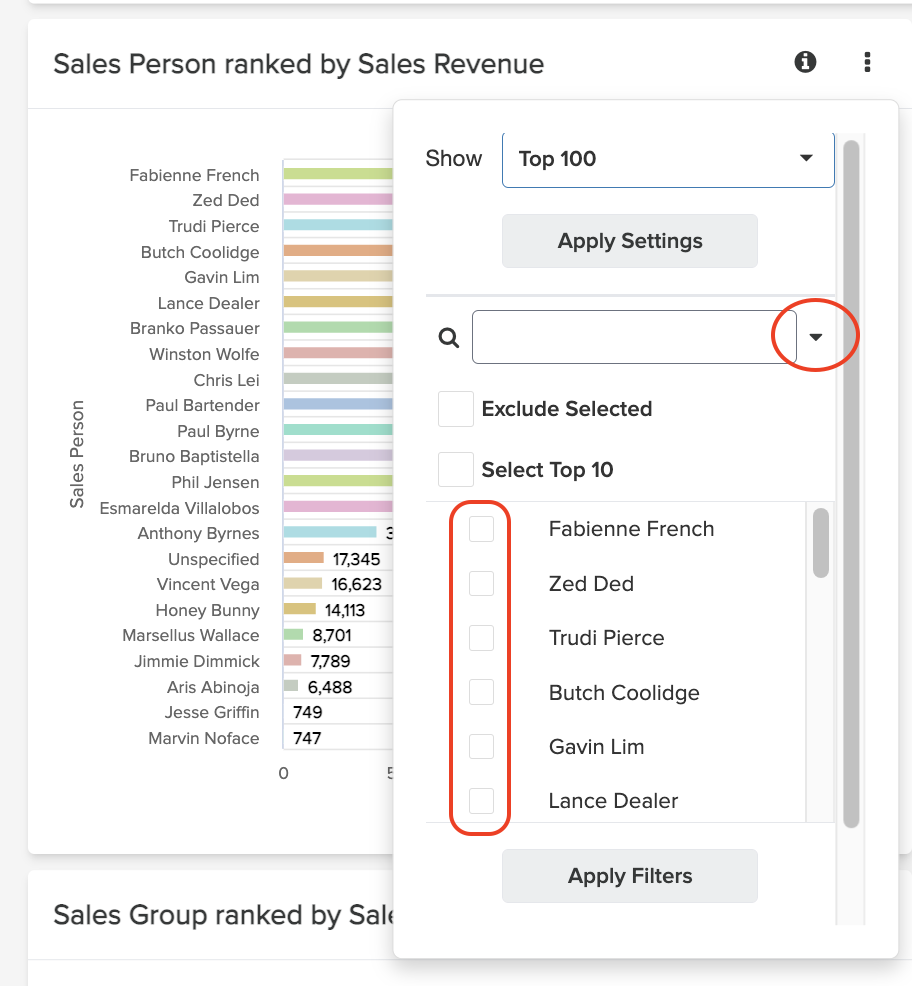 On this view, you can multi-select / deselect up to 10 items. If you selected more than 10 items you will receive a warning message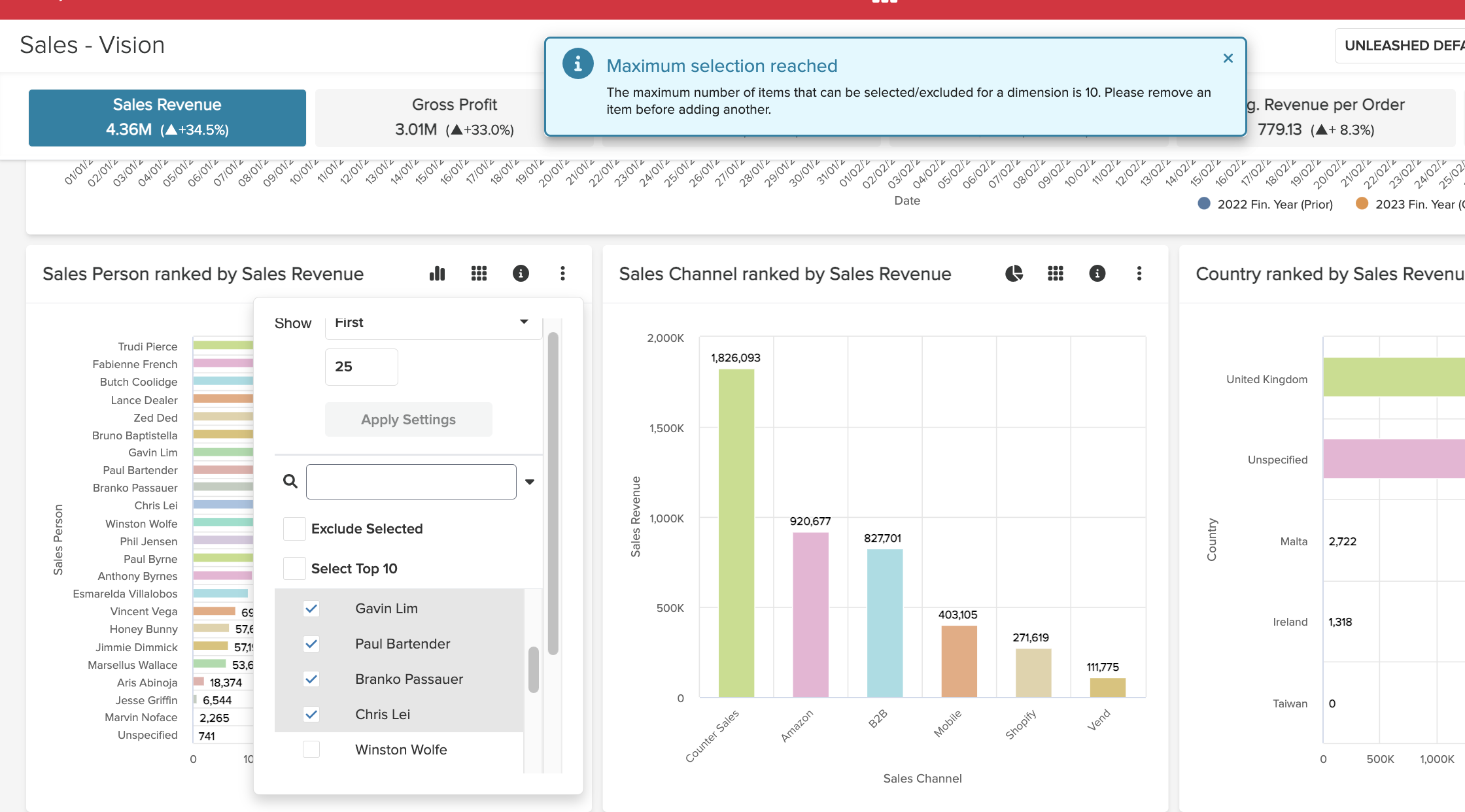 Exclude one or more values.
Click on "Exclude Selected", then select from the lits the ones (Max 10) you want to exclude from your results and hit "Apply Filters". This will apply the filters, excluding those selected.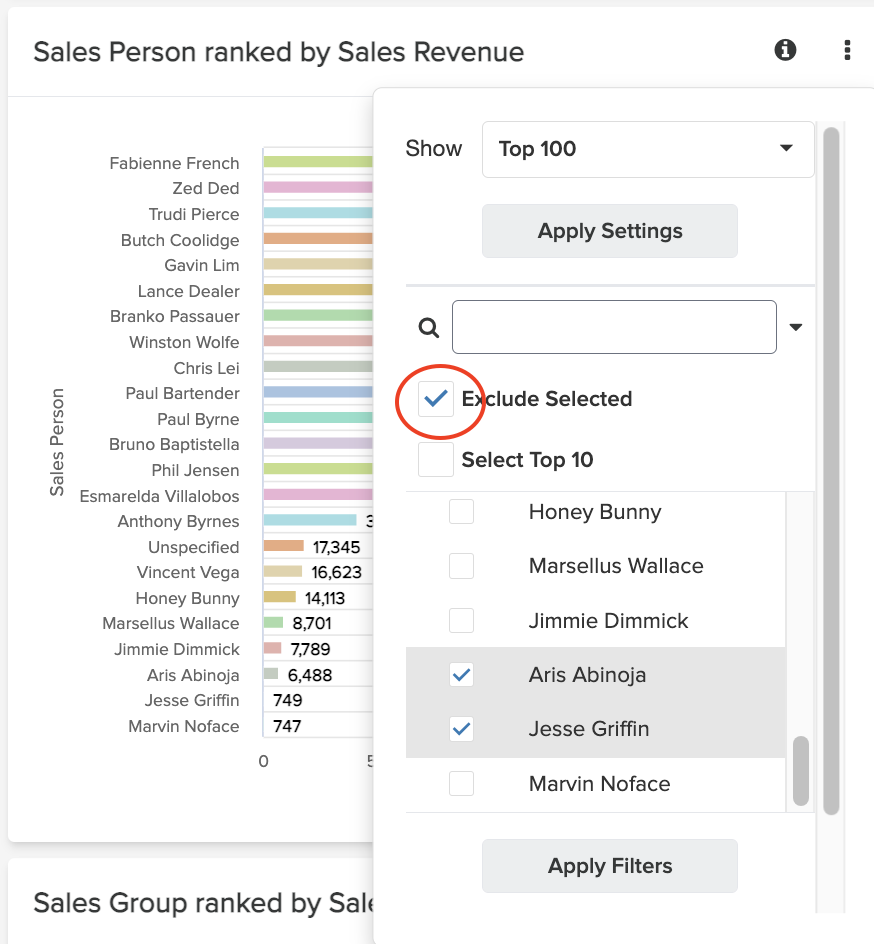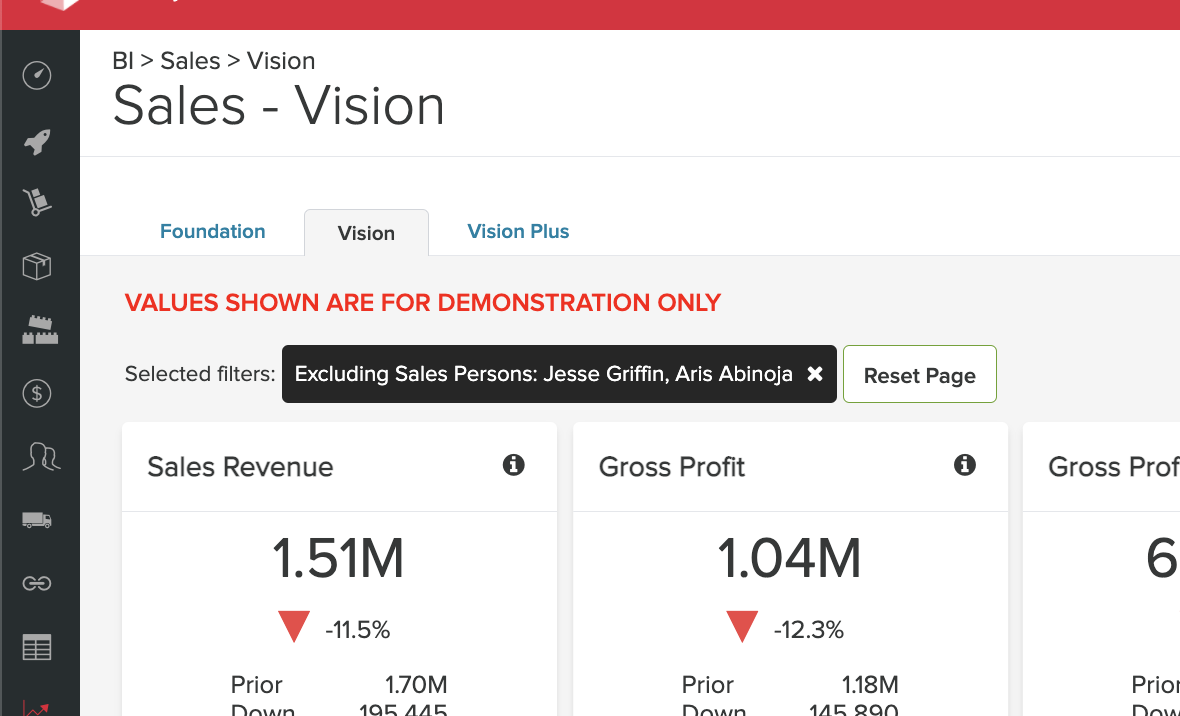 Click on the "Reset Page" button to reset the page and clear all filters.
TOP TIP: It is best practice to always clear all filters or selections before applying your next selection. To ensure all filters are cleared, just navigate to any other BI page/tab and back should clear your filters on that page.
Export to CSV and other file types:
Timeline charts and dimensions can be exported to different file types which includes CSV and PDF. Click on the "More Options" menu on the top right-hand side of any dimension and select the [Export] option and select the type of file (Available on Sales and Customer BI Vision pages). The file will be downloaded to your PC ready to analyze or share further.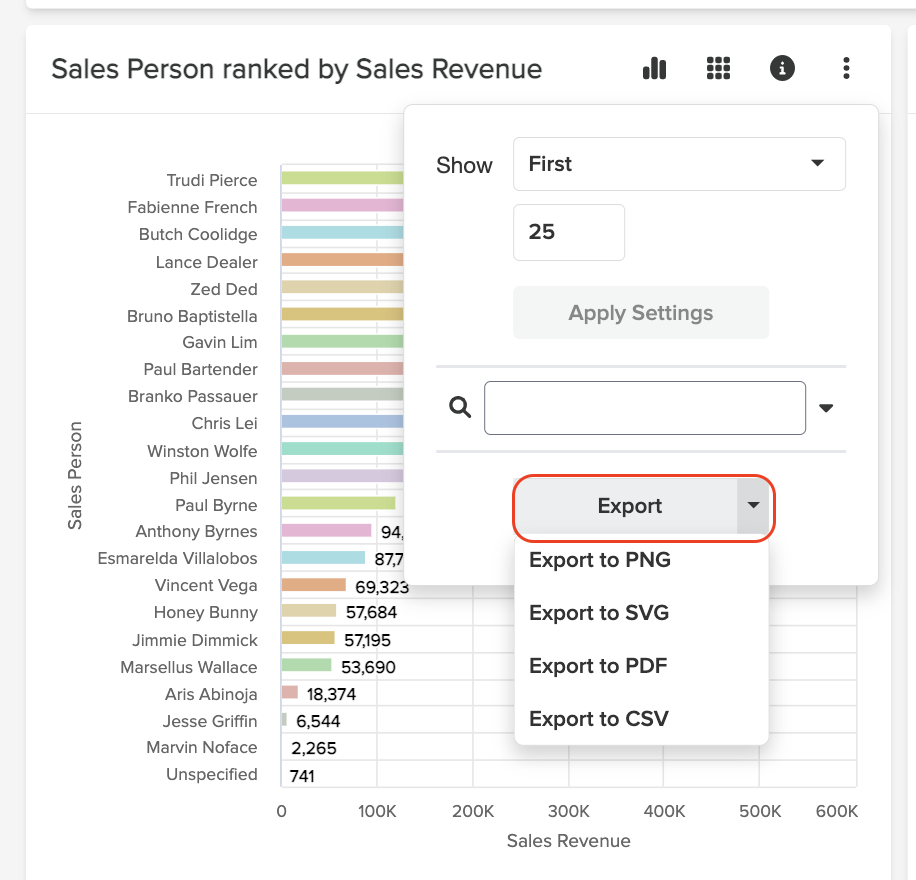 For the Timeline charts where we compare two periods, the exported data will be 2 sets of data.

The prior period and the current period. The 1st column will show the dates of the current period, the 2nd will have the value of the prior period, and the last column the values of the current period.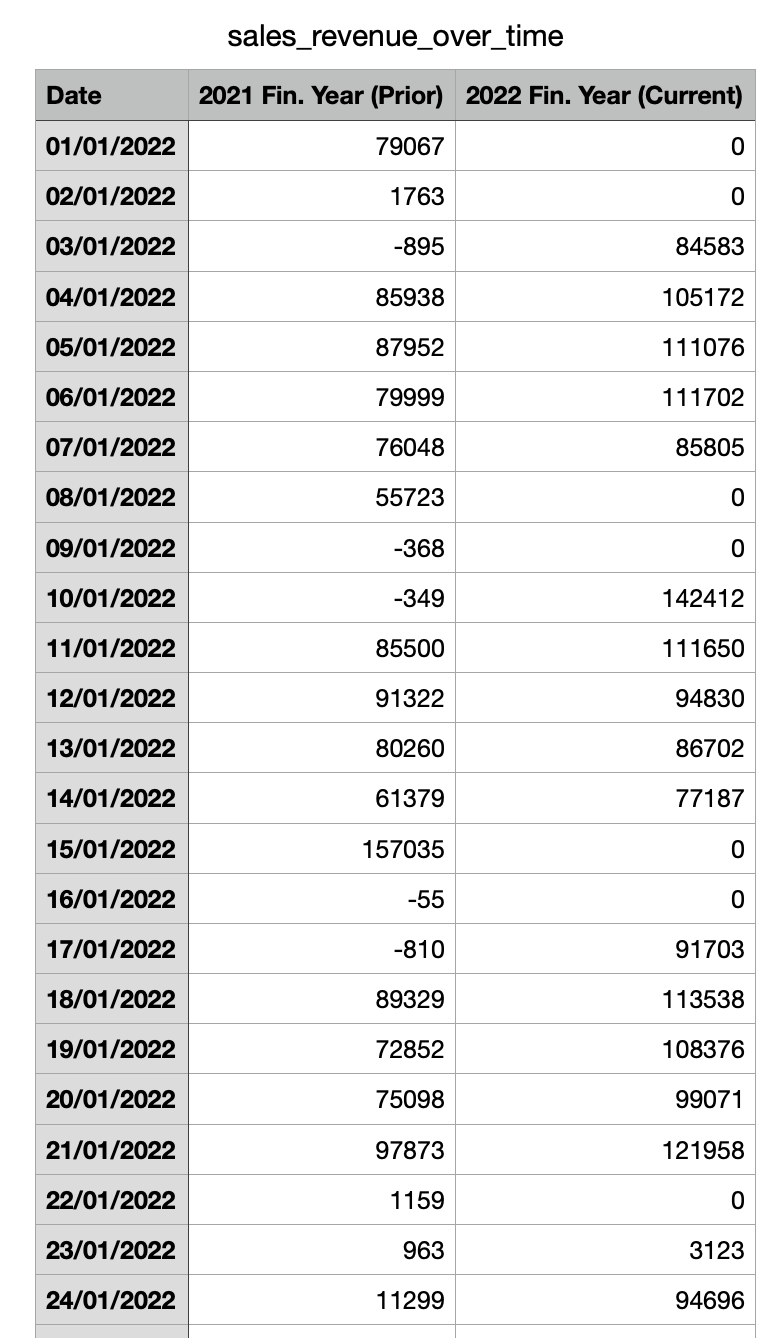 Note: Exporting special characters such as Japanese and Chinese to CSV does not open properly in Excel.
Excel does not automatically use UTF-8 when opening CSV files. To resolve this issue, please do the following after exporting a CSV file:

On a Windows machine:
Open Excel, click "File > New".
Click "Data" tab.
For older versions of Excel:

Click the "From Text" option. Select the CSV you file want to import.
Excel will display "Text Import Wizard".
In step-1 of this wizard:

Select the "Delimited" radio button.
In "File origin" field - select "65001 : Unicode (UTF-8)".
Click "Next >" button.

In step-2 of this wizard: Select the "Comma" checkbox.
Click the "Finish" button.
In the dialog window that appears - click the "OK" button.

For newer versions of Excel:

Click "From Text/CSV" option. Select the CSV you file want to import.
In the next box select: In "File origin" field - select "65001 : Unicode (UTF-8)".
Click the "Load" button.
Excel will display your CSV file - including non-English characters - properly.

On a Mac:
If you are using Excel 2016 or later, then the above, method 2, will also work on Mac. For older versions, you can select File - Import, and then once you select your CSV you will be able to choose the encoding to use.
Some BI Tutorial and Training videos:
Tutorial Videos
Zooming in on graphs:
The majority of charts can be zoomed into, to do this is easy, just click and hold in the graph, then drag left or right to highlight the area you want to Zoom into.
The zoom-in will happen instantly and a [Reset zoom] button will display. When you click the reset zoom button this will reset to the default view.
Toggle chart legend on or off
At the bottom of most graphs lookout for the legend which you can click to hide or show specific series.

Apply and save filters
To select a value to filter on, click in the chart and select the bar you wish to filter on. You can also use the search and select from the kebab/3-dot more options icon available on all dimensions.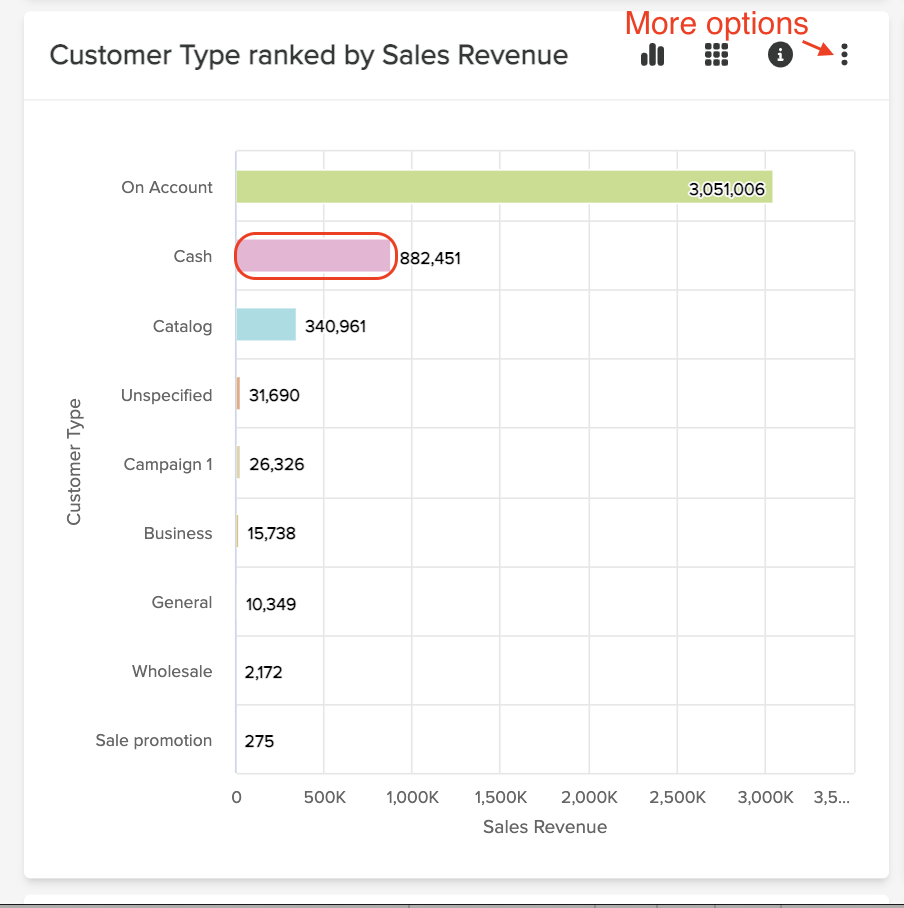 All the dimensions and KPI tiles will update with the values of the selected filter.
Selecting "On Account" as a filter on Customer Type, the chart will only display the "On Account" selected value on the Custom Type dimension.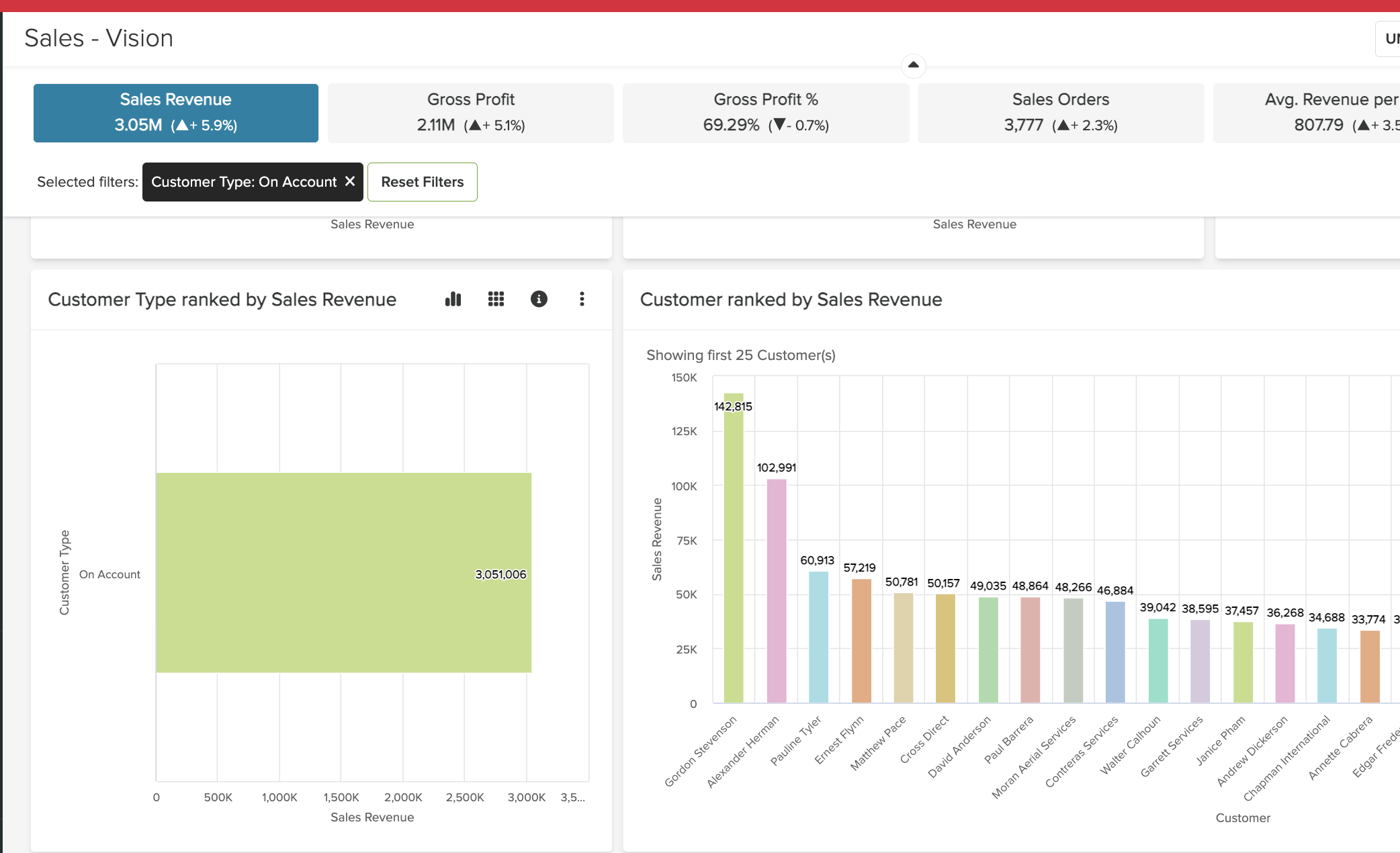 The selected account type now has been added as a filter to the top of the page and will display above the KPI tiles. To clear the filter click on the X next to the selected value or click on the Reset Filters button. The number of filters you can apply is only limited to the number of dimensions to select from.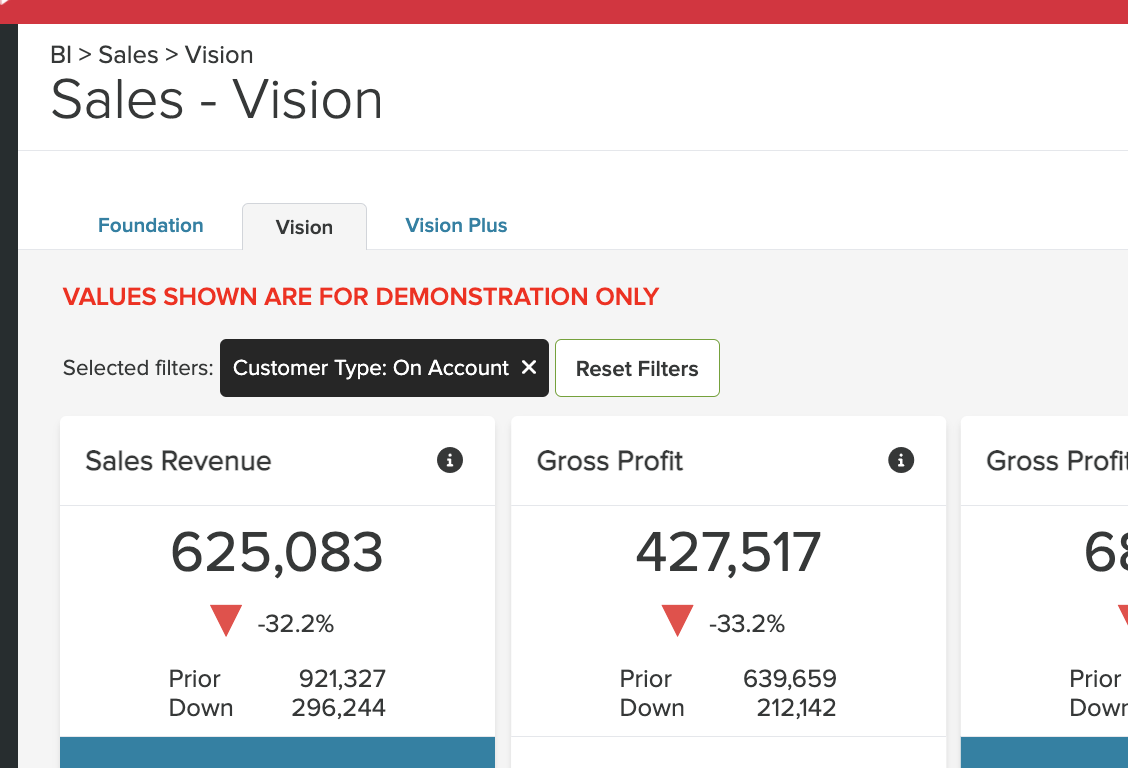 Selecting more values from other dimensions enables you to cross filter all dimensions to get to specific answers such as:
What was my Revenue from all my "On Account" customers, for the Date Range, in a specific State/Region, and who was my top Salesperson for this selection?
Who was my top or lowest-performing Salesperson based on Sales Revenue (or any other KPI) for a selected Product Group per State/Region
What Products sold the most units for a selected Region and period?
What was my Sales Revenue, Gross Profit, Number of Sales Orders, and Average Revenue per Order for a Customer who is buying On Account for a specific Product Group in the Period selected?
The figure below shows the filters selected. This shows the values of the Sales KPIs for an On Account Customer, for a selected Product Group, and a selected Product.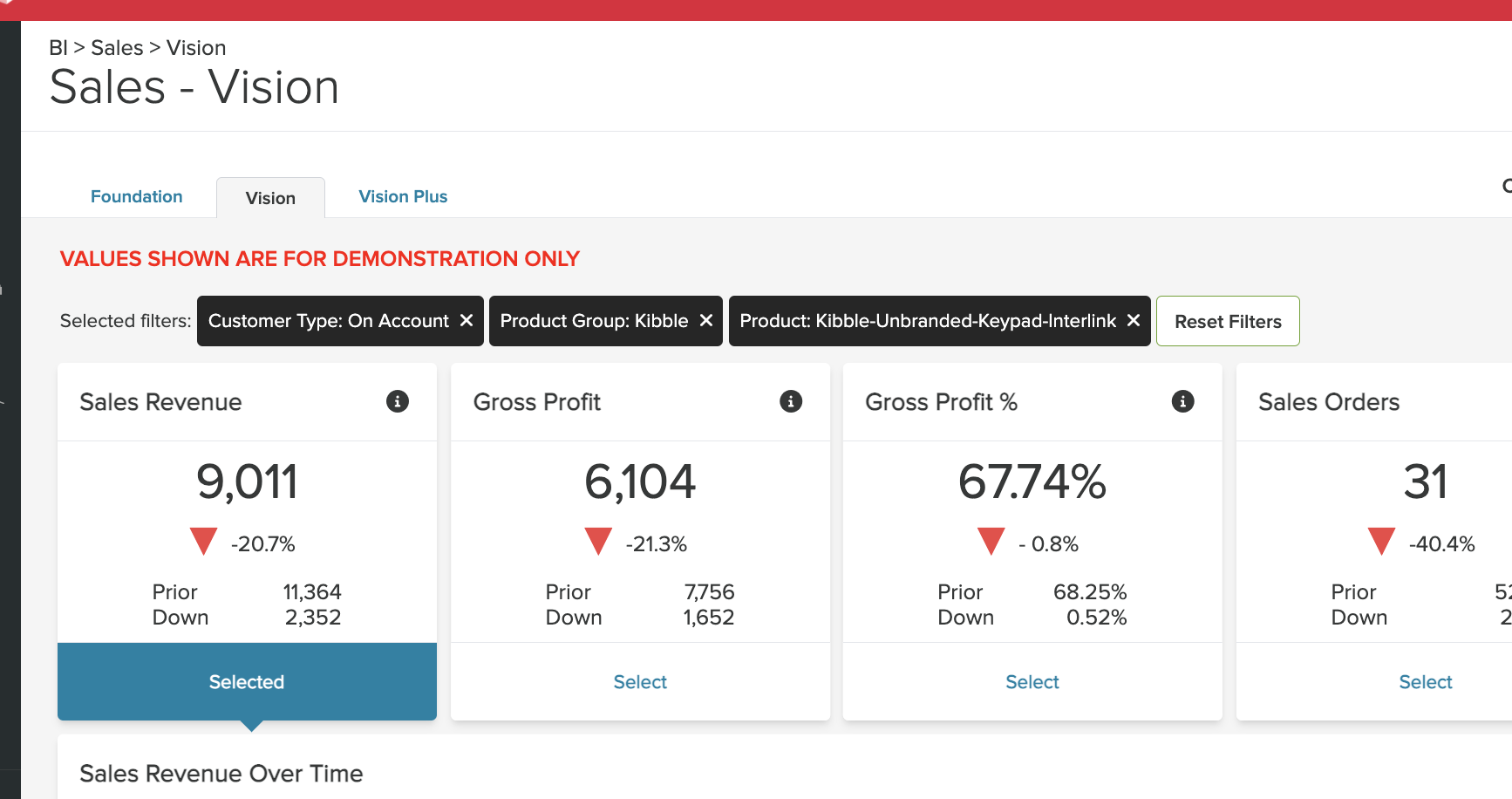 Bookmark filter:
The selections and filters applied will be added to the URL (web address) and you can Bookmark (Save) this page for sharing with other users in your organisation who also have access to BI Vision or to have quick access to your favorite filters when you login to your Unleashed account.
Example: I want to quickly view Year to Date sales revenue for a specified product and customer type every time I login to Unleashed without navigating to BI Vision sales, making my selections, and cross filters.
Access the BI Vision Sales page, select "YEAR TO DATE" as the date filter, select Customer Type = On Account, Product Group = Furniture, and Product = Single bed. This selection now will be visible in the web address line of your web browser.
Clicked on the Star to bookmark this page.
TIP: You could create folders for each context (Purchases, Inventory, Production, Sales, and Customers) in your web browser to group these bookmarked pages or if you have multiple Unleashed accounts you can create bookmark folders and subfolders for each account.
Now you can easily navigate back to this page and your selection. Login to Unleashed, go to bookmarks and select this bookmark - the latest YTD sales revenue for this product will be displayed.
BI Vision enables you to drill down into dimensions, cross filter on dimensions, and will provide you with insights to understand and manage your business better.