Unit Sales Enquiry
Follow
About Unit Sales Enquiry
The Unit Sales Enquiry enables you to view how your products are performing over a longer term. There are a few filters that you can apply to your Sales which dictates the product and date range you see. The Unit Sales Enquiry reflects the units that have been dispatched, regardless of the whether the order has been completed or not.
The Unit Sales Enquiry shows you on a monthly scale how many units you are selling each month of each product. This is good if you want to compare what products are not performing as well as others. You can view it for particular products using the product filter as well as for particular warehouses. The Period drop-down is where you can specify what year you would like this for.
Other features include:
Export your report to PDF for best reporting. Alternatively, you can export to Excel (CSV file) to review for further analysis.
You can also drill down into product details by clicking the hyper-links available on the page.
Unit Sales Enquiry page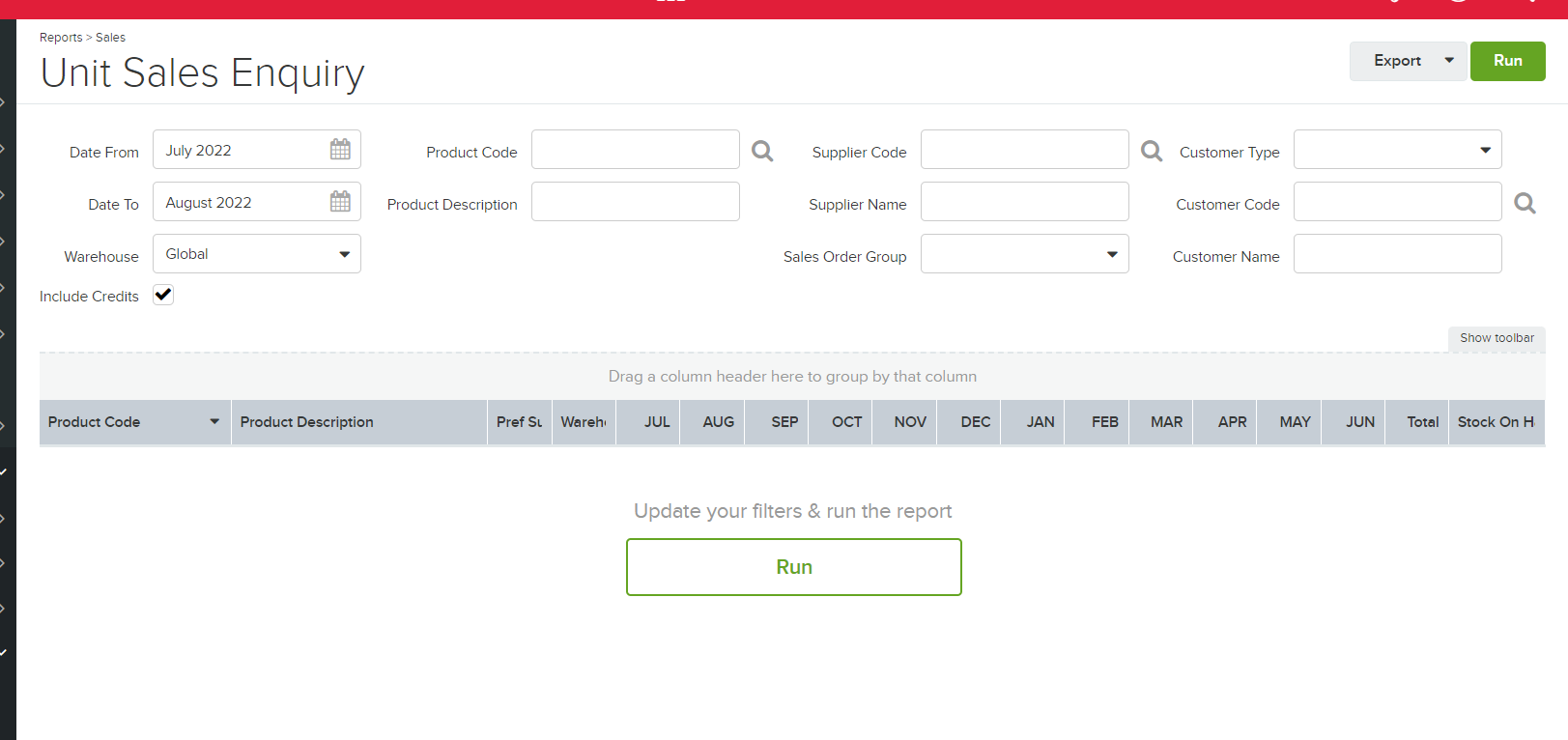 Filtering your Unit Sales Enquiry
Select a filter you want to use from the top of the Unit Sales Enquiry page, this could be from either of the

Period
Product Code
Product Description, or
Supplier Code
Supplier Name
Customer Type, Code, Name. Or
Warehouse drop-down menu filters available to you
Sales Order Group
Include Credit in Total (this will include all credit quantities for credits linked to a sale. Note:

Free Credits will not be included)

Press Run.
Your results appear on the page.
Exporting your reports
You can easily export your report to PDF (default), CSV, XLSC or XLS for best reporting.
To do so;
Click the Export button.
Select what format you want your report to be, you have the option of;
To select the option you want, click on the Export arrow on right of button to provide you the options. If you click on Export itself, it will default to the PDF setting, and a PDF is generated.
Using the custom grids
Depending on what sort of information you require, you can enter the relevant criteria and then click Run at the top on the banner. You can also export what you see to several different formats such as pdf, xls and .xlsx using the Export button on the banner. Using the tool bar above the grid, you can do several other things to the information shown in the grid.
These are described as follows:
Group By Column(s):
To group by a desired column you simply need to drag and drop it into toolbar above the grid. As soon as you drop it the grid will group everything based on that column. You can group by as many columns as you like and expand all or collapse all the groups under the More menu.
Create Multiple Views:
To set up multiple views of this report you just need to click New on the toolbar and give it a name after making any customizations. You can create as many views as you like and also choose a default which will be displayed when you first click on the report.
Customize Columns Shown:
Using the Hidden Columns button you can choose what columns are shown on the grid and where. To add or remove a column, simply drag and drop the columns you like to and from the Hidden columns box.