Trial Account
Follow
You can create a free trial account to try some of our great inventory management features. We recommend attending one of our free training webinars to understand details about how you can leverage Unleashed features for your business requirements. You can also access our video library anytime.
Register for a trial account at: https://go.unleashedsoftware.com/v2/Account/Register.
Type in your First Name, Last Name, and Email Address.
Select Start My Free Trial.
Type in your Company Name and Phone Number.
Select your Country.
Type in your City.
Select your Base Currency, and Industry.
Read the terms and conditions and select

I have read and I accept the Terms of Use.
Click Done.
Now it's time to activate and secure your account with a password.
Type in your Password.
Re-enter your password for confirmation.
Click Activate.
For the best experience of Unleashed, see our system requirements.
Trial Data Options
You can choose to add example data which Unleashed has provided to try out the different features or you can choose to add your own data.
You can also change the option after you start using Unleashed from the

Manage Trial

page.
Click

Confirm. The Guided Tour popup message will be displayed. Click

Next

to complete the tour and understand the different features in Unleashed.
The following information bar will be displayed at the top to indicate that you are using a Trial account (click to expand/collapse screenshot).
Click Manage Trial to display the Trial Management page.
Click

Subscribe Now

to access the subscription options.
If you want to extend your trial, click

Extend Trial

to send an email to the Sales team with the Trial Company name and reason.
Trial Management Page
The Trial Management page has information and options to manage your data during the trial. The following screenshot displays the Trial Management page.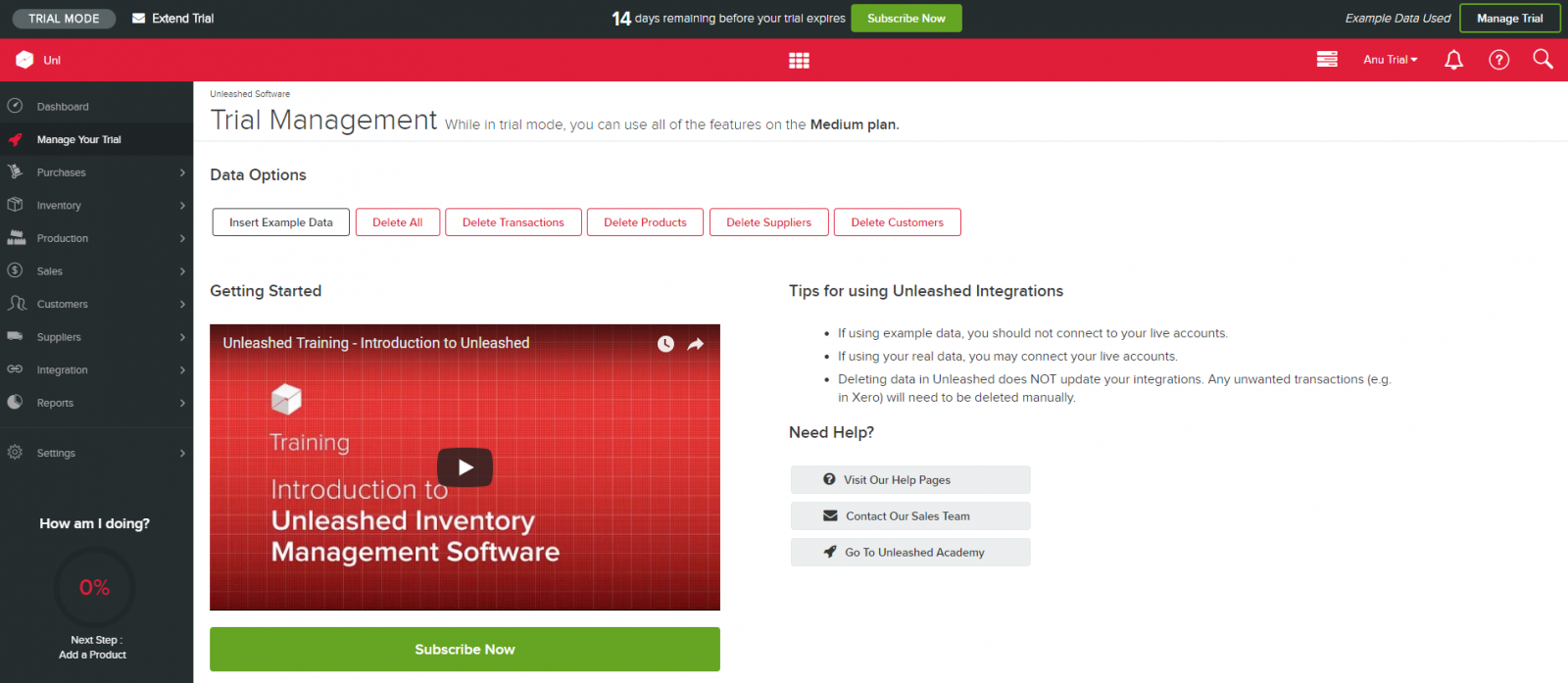 Trialing Unleashed
After you have selected the required options and setup your Trial account, you can take a quick tour of different processes with our training videos. Try the following tasks to understand the Unleashed inventory management process flows. You can replicate some of the scenarios in your business to understand how it can best fit your requirements.
Setup your Trial Company Settings
This will enable you to configure options like Currencies, Product Groups, Customer types, etc. For more information, see Account Configuration.
Create Suppliers, Customers, and Products
You can create some records to try the different features.
To create Purchase Orders, you must have a Supplier to buy from. For more information, see Create a new supplier.
Now let's create customers to sell to. For more information, see Create a new customer.
Create products to buy or sell or

never diminishing products, such as freight and fees. For more information, see Create a new product.
Create Purchase Orders
You can create a purchase order for ordering stock. For more information, see Create purchase orders.
Manage Inventory
Complete a Stock Adjustment to adjust stock on hand and accurately reflect current stock that is ready for sale.
Stock Adjustments maybe adjusting stock on hand to increase or decrease physical stock levels or you can also adjust the stock value.
Complete a Stock take to ensure accurate stock numbers.
Production Module
This module is available only on specific Unleashed plans. For more information, see the
Unleashed website
.
A Bill of Materials (BOM) is a list of the raw materials (products or component parts) and the quantities required to manufacture a product.
You can create a BOM and then add an assembly based on the BOM.
Create Sales Orders
After you have created the products and have stock on hand to sell, try to create a sales order.
You can also try using features like Multi Warehouse Production and Order Management. These are special features that are only available for users on specified plans. For more information, see the Unleashed website.
Once you have tried Unleashed and decide to subscribe, you can proceed to setup your new account.