Navigate around Unleashed
Follow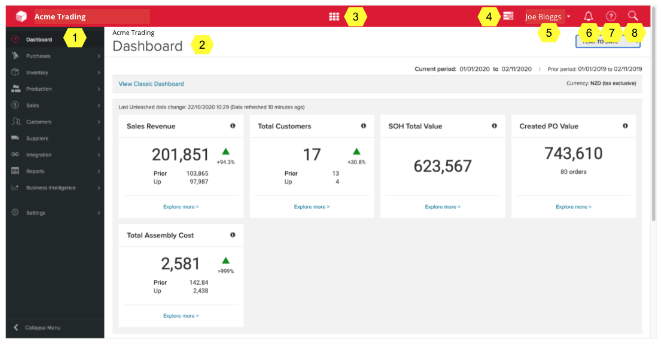 Menu structure

Unleashed is set-up as a production line, the interface flows from top to bottom right through the business process and covers all steps along the way.

Dashboard The Dashboard displays day-to-day business information such as Sales Revenue, Total Customers, Stock On Hand Value, Purchase Order Value and Assembly Costs. The Default Period is Month To Date, with other periods available from the drop down menu on the right.
A slide-up panel will display transaction information from the bottom of the Dashboard as a convenient way to investigate open, late and expired transactions as well as high and low stock alerts:

If you have enabled batch tracking, Batch Expiry information is also available from the Dashboard. Simply click on a particular Batch Number if it needs investigation:

Shortcuts

You can create a quick access menu for your frequently used tasks. For more information, see

Customize shortcuts

.

Tasks menu

Enables you to track any long running tasks as a background process. For example: imports, bulk complete, exports, etc. Once the task is completed you can see the results in the menu and if applicable download any output.

Account Configuration
Logging Out: Click on the account name drop-down list and then click

Log Out.
Unlocking an account:

please

submit a case

to our Experience Team.
Click on the account name drop-down list, and then click

Change Password.
Type in your current password and new password.
Confirm your new password.
Click

Change Password.
Notification Center

Notifications for the latest release features, support and marketing information.

Help

Click the (?) button located at the top right corner of the Unleashed page.

Global Search

The global search field is located at the top right corner of the Unleashed application. It is available on every page and enables you to search across all data within Unleashed. You can search for transactions, products codes, customer codes, and supplier codes.
Using the Action Cog
The action cog is available on the column header and rows for the View pages of Purchases, Suppliers, Products, Customers, and Sales.
When you hover your mouse over the action cog, you can select an action that you want to perform. Actions are dependent on where the action cog is found. The screenshot illustrates the View Sales Order page action cog functions.
The action cog on the left of the grid is a "Bulk Action Cog" meaning that you can act on more than one Sales Order at a time: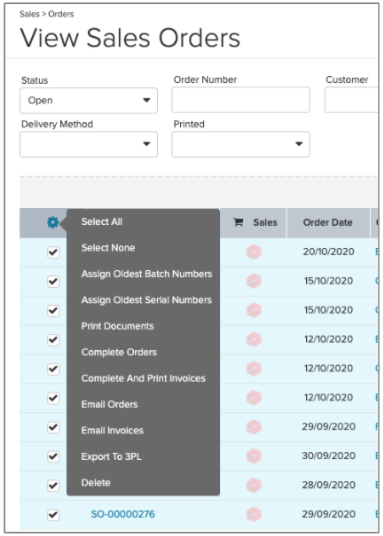 The action cog on the right of the grid acts on individual Sales Order only: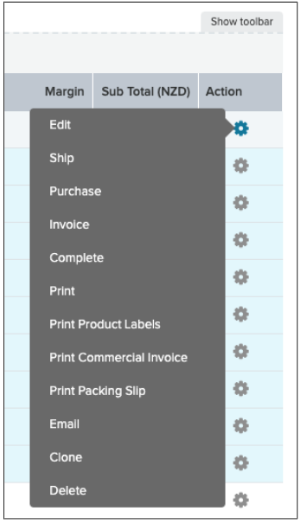 Customizing Grid Columns
In many of the pages within Unleashed, you can change the positioning of the columns, add or remove columns and save multiple layouts.
How to customize the grid columns
Click Show Toolbar to view the available options.

To create a new layout, click New and specify a name for the layout.

Rearrange columns: Select and drag the column to the required position.

Click Hidden Columns to hide or unhide a column. You can drag and drop the required columns.

Click More to select the Expand All or Collapse All options.

Select the Default checkbox if you want to set the default layout.

Click Save.

If you want to share your customised grid layout with other users in your organisation, click on the "Shared" option:

Help Options
When you sign up, you have the option to take a guided product tour to understand the important features to help you effectively setup your system.
Click the

?

icon and then click

Take the Tour.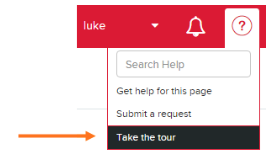 The other available options are:
Search Help field: Enter a term to display the relevant content from the Help pages.
Get help for this page: Context-sensitive Help for the current page.
Submit a request: You can submit a request to the Support team. Specify the required details and click

Submit.